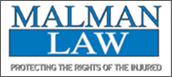 This is an unbelievably dedicated staff, including the recent hires and those who've been with me for years.
Chicago, Illinois (PRWEB) February 01, 2012
The Chicago-based Law Offices of Steven Malman & Associates PC is ending 2011 on a high note, announcing the addition of new attorneys and new support staff to its already impressive roster.
Launched in 1994 with just its namesake founder, one secretary and one assistant, Malman Law announced this week the addition of several new paralegals and administrative staff. In addition to the four new attorneys added throughout the course of 2011, the firm now includes seven attorneys and over a dozen paralegals and administrative staffers.
"It was just me, my secretary and an assistant when I went into private practice 17 years ago," noted Steven Malman, who first started practicing when he graduated from the School of Law at Loyola University-Chicago and passed the bar exam exactly two decades ago. "I added my first associate a few years later, and then a second a few years after that. But things really started picking up a few years ago."
The attorney partially credited a strong advertising program for the steady flow of business that ushered his firm through the Great Recession, not only facilitating but necessitating the staff escalations. All told, Malman Law has successfully resolved over 8,000 cases since 1994 (it boasts a 95 percent out-of-court settlement rate), and with this year proving to be the busiest in the firm's history – it took on and completed more cases, and collected a higher valuation of settlements, than ever before – its founder specifically cited those marketing efforts.
"We're totally committed to advertising," Steven Malman said. "We're probably the second-largest television advertiser in Chicago, and probably the largest Internet advertiser. There's no doubt that commitment has paid off."
But the biggest factor in his firm's growth, the attorney added, has been the exemplary customer service provided by his lawyers and other staffers, leading to "tons of personal referrals from our current and older clients."
"A good third of our business is referrals from existing clients, and I can't think of a better endorsement for the work done by our staff," he said. "We have great customer service that focuses on our clients and makes it as easy as possible on them, and that shows in the impressive number of word-of-mouth referrals we receive."
"We'll go out to see clients so they don't have to come to us," Steven Malman added. "We'll always put their needs first and address their concerns as best we can. This is an unbelievably dedicated staff, including the recent hires and those who've been with me for years, and they really do care about every client's wellbeing. And clients know they can contact me personally. I'm always available."
With about a third of his staff dedicated to cases of neglect and abuse in nursing homes, a third focused on workers' compensation claims (a booming practice area during the recession, Malman noted, with more workers losing their jobs) and a third concentrating on other personal injury cases (everything from automobile accidents to dog bites), the attorney is planning several further additions in 2012.
Adding to a notable staff that already included a former physician (and law school graduate) who provides expert medical reviews, Malman this year brought in a former defense attorney who previously represented nursing homes. Next year, he'll be looking to introduce two new attorneys and "at least" two additional paralegals, all focused on other specific areas.
"As long as the demand is there, we'll keep growing," Steven Malman said. "And the demand is definitely there. We have a team of 20 dedicated professionals now, including seven attorneys, and we'll keep adding to it, as much as necessary, to ensure that we can not only bring the proper legal resources to bear on every case, but that our customer service remains an example throughout the legal profession.
"It all starts with customer service," he added. "That's what's made this firm so successful, and what will continue to drive our success in the future."
About Malman Law
Attorney Steven Malman is a graduate of the University of Iowa and a 1991 graduate of the School of Law at Loyola University-Chicago. He launched the Law Offices of Steven J. Malman & Associates PC in 1994 and has grown the firm to include seven attorneys and over a dozen paralegals and support staff. Steven Malman Law has successfully resolved over 8,000 cases, primarily in the areas of workers' compensation and personal injury. With 95 percent of its cases settled out of court and numerous seven-digit personal injury verdicts to its credit, the firm is one the most successful serving Illinois' Cook, Will, Dupage and Lake counties.
###