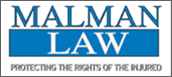 Steven Malman was able to deliver some impressive settlements and, more importantly, some justice and peace of mind for our many clients.
Chicago, IL (PRWEB) February 02, 2012
Things are looking up at the Law Offices of Steven Malman & Associates PC, in every possible way.
The Chicago-based firm's 17th year proved to be its most successful, according to founding partner Steve Malman, who today announced that his personal injury-focused firm not only expanded its professional staff in 2011 – adding four new attorneys, several paralegals and other administrative staffers – but set new records in the number of new cases taken and cases successfully resolved, and in the total valuation of recovered settlements.
"This was a banner year," Steve Malman said. "By taking on and winning more cases than ever in our history, Steve Malman Law was able to deliver some impressive settlements and, more importantly, some justice and peace of mind for our many clients."
The founding partner partially credited Malman Law's success to a strong advertising campaign and an unprecedented level of word-of-mouth referrals. His firm is "probably the second-largest television advertiser in Chicago, and probably the largest Internet advertiser," he said, while "a good third of our business is referrals from existing clients, and I can't think of a better endorsement."
But the No. 1 reason for Steve Malman Law's big year (and all those personal referrals) is the firm's total dedication to customer service, he added.
"We have great customer service that makes it as easy as possible for our clients," Steve Malman said. "For instance, we'll go out to see clients so they don't have to come to us. And we'll always put their needs first and address their concerns as best we can. This is an unbelievably dedicated staff, including the recent hires and those who've been with me for years, and they really do care about every client's wellbeing."
It's no surprise that Steve Malman enjoyed such a successful year. The firm is rated A-plus by the Better Business Bureau, which accredited Malman Law in September 2011, and is a member of the Top Trial Lawyers of America's Million Dollar Advocates Forum. It has successfully resolved over 8,000 cases since 1994, including numerous seven-figure settlements.
The firm divides its time and energy into three basic areas: A third of its resources is dedicated to cases of neglect and abuse in nursing homes; a third is focused on worker's compensation claims; and a third concentrates on automobile accidents, dog bites and every personal injury claim in between.
While the firm has achieved much success going after neglectful nursing homes, Steve Malman cited a large uptick in worker's compensation claims – a side effect of the Great Recession – as one of the biggest factors in Malman Law's triumphant year.
"Our worker's compensation efforts have gone very well," the attorney said. "Ironically, that's because of the high number of layoffs due to the recession. People become more inclined to pursue worker's compensation claims when they lose their jobs – they file claims they were previously afraid to file, because it might cost them those jobs. Since the statute of limitations is three years from the date of the accident, after people lose their jobs, they pursue a lot of older cases … and we've been able to win several of them on behalf of clients who really deserved it."
The new staff Malman Law recruited in 2011 has been busy. This year, the firm created several focus teams to address specific legal needs, including a Nursing Home Team – an elite squad of attorneys and administrative staff concentrating on cases of abuse and neglect inside Chicago-area elder-care facilities – and the 24/7 Rapid Response Team, widely acknowledged as Chicago's first 24-hour hotline staffed by licensed attorneys.
The firm also now boasts several uniquely qualified staffers, including a former physician (and law school graduate) who provides expert medical reviews and a former defense attorney who previously represented nursing homes, giving Malman Law a tactical advantage against poorly run care facilities that try to bend regulations to cover their liabilities. The Law Offices of Steve Malman & Associates PC also physically expanded in 2011, taking an additional 1,500 square feet inside its West Randolph Street location to accommodate the new hires.
Already planning further staff additions, including "at least" two new attorneys and several paralegals, the firm's founder is anticipating another big year in 2012.
"We're very pleased to be able to bring these considerable resources to bear on each and every case," Steve Malman said. "The personal glory, the high-water marks for cases and settlements, all of that is very nice, but in the end, it's about proving the best legal services and customer services we can.
"That's why we had such a strong year, and why we'll continue to perform well in the future," he
added. "Our success is all about our clients' success."
About Steve Malman
A graduate of the University of Iowa and the School of Law at Loyola University-Chicago, attorney Steve Malman has been practicing law for 20 years. Since the Law Offices of Steve Malman & Associates PC launched in 1994, it has successfully resolved over 8,000 cases – primarily in the areas of workers' compensation and personal injury – and achieved a 95-percent out-of-court settlement rate, including numerous seven-digit personal injury verdicts. Steven Malman Law is one the most successful firms serving Illinois' Lake, Dupage, Will and Cook counties.
###