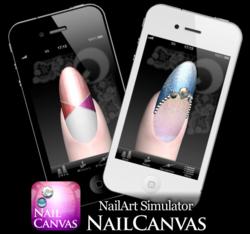 I hope this app will be the best tool for all the people who like nail art.
(PRWEB) February 07, 2012
VoxcellDesign, a 3DCG content provider based in Japan, has released the world's first 3D nail art simulation app. NailCanvas for iPhone takes advantage of the company's technology to allow users to quickly create custom nail art designs.
Thanks to its user-friendly interface, NailCanvas makes it possible for any user, from beginner to professional, to easily design nail art whenever they want. Nail artists can use the app to instantly design and share their creations with their customers or associates. NailCanvas is also an ideal place to start for those who are interested in nail art but have never tried it before. The amazing image quality is achieved by the market-leading 3D game engine, Unity.
NailCanvas Features:
Style Editor - Allows users to change the shape of the nail and the color of the skin.
Polish Editor - Users can choose the color and pattern of the polish from a wide variety of collections. Patterns include solid, pearl and glitter.
Decoration Editor - There are many types of shape along with materials like rhinestone, metal, and acrylic. Users have control over location, size and rotation of the decorations attached to the nail.
Preset and User Library - Sample art designs are available to inspire users and demonstrate the capabilities of this app. The app includes an auto-save feature; users can also save their data to the User Library as much as they want.
Gyro Sensor Support enables users to see decorations twinkle as they shake their device.
Users can save a screenshot to their iPhone's Camera Roll.
Social media options allow users to share their nail art on Twitter and Facebook.
Overview of the app:
Title: NailCanvas
Release Date : Feb 01, 2012
Price: 3.99$ (one week 75% discount, 0.99$)
Supported Devices: iPhone4S, iPhone4, iPod Touch (4th generation), iOS 4.3 or later
App Store URL: http://itunes.apple.com/us/app/nailcanvas/id497273181?mt=8
Contact Information
VoxcellDesign
Kei Wakizuka
http://www.nailcanvas.com
info(at)nailcanvas(dot)com
###