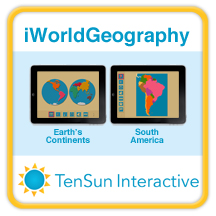 "We love the simplicity ... and the friendly navigation system."
--TeachersWithApps.com
Boston, MA (PRWEB) February 08, 2012
TenSun Interactive launches iWorldGeography Series for iPad, an engaging introduction to countries and continents of the world designed by the former Lead Developer at MIT's Center for Educational Computing Initiatives.
Created for 3- to 9-year olds, narrated by a child, each iWorldGeography app is a stand-alone lesson including an audio-visual introduction to the name, shape, and location of each continent or country plus a quiz, puzzle, and labeling activities for countries, capitals, and flags ...

Active Intro - touch a country to hear its name
Passive Intro - watch an animated introduction
Quiz - touch "Ask Me" button, locate countries
Puzzle - reconstruct the map
Labeling - complete three activities - country names, capitals, and flags
Features:
Activities freshly shuffled each round
Labeling Lightbulb - shows control maps for study or a quick peek
Flag Magnifying Glass - touch to view flags in greater detail
Unlike many children's apps, iWorldGeography contains no irrelevant noises or visual distractions. Technology fades into the background. The minimalist design allows kids to concentrate on content.
TeachersWithApps.com says, "We love the simplicity of [iWorldGeography Earth's Continents] and the friendly navigation system. Little kids can virtually use this app on their own and figure it all out seamlessly."
TenSun puts children in charge of their learning by allowing them to control the difficulty and depth of their lesson. There is no penalty for a wrong answer. The correct answer is simply reinforced. Activities are self-correcting, allowing children to discover answers on their own. iWorldGeography works equally well for kids and adults both at home and in the classroom.
Pricing and Availability
The first two apps in the iWorldGeography Series, Earth's Continents ($0.99 US) and South America ($1.99 US) are available now in the iTunes Store. Additional apps including Central America, North America, Australia, and the United States will be released throughout 2012. iWorldGeography™ Series content is ©2004-2012 TenSun Interactive, LLC. All rights reserved.
About the Series
iWorldGeography applies self-teaching activity design to geography curriculum found in Montessori Children's House and Lower Elementary classrooms. The series was developed after three-year's observation in Lexington (MA) Montessori School Children's House classrooms, where TenSun's desktop version of this series has been a popular curriculum supplement since 2004.
About TenSun
TenSun Interactive creates engaging, educational software. Minimalist design puts learning first. Intuitive navigation lets the computer fade into the background, leaving users free to explore their subjects without distraction. TenSun apps work equally well for children and adults both at home and in the classroom. For more, visit http://tensuninteractive.com.
 
###