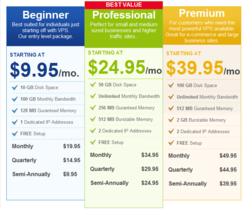 "We were missing out on a key demographic in customers looking for VPS and reseller hosting..."
Rolling Meadows, IL (PRWEB) February 02, 2012
WebHostingPad.com have long been seen as one of the best budget shared hosting providers in the industry. As the need for more powerful hosting services has increased, they have expanded their services and launched virtual private server (VPS) and reseller packages.
As is the WebHostingPad.com way, they offer several different levels of hosting all at very reasonable prices when compared to their competitors. Prices range from as low as $9.95/mo for their beginner package all the way up to $39.95/mo for the premium VPS service. The three VPS packages offered by WebHostingPad.com allow for customers to be able to purchase a service that will suit their needs, and won't need to overpay for options they won't need.
WebHostingPad.com also offer these as reseller hosting options, so that individuals looking to partition their virtual private server to host numerous other accounts. These accounts are perfect for web designers and developers who have customers who need hosting. It is also a great way for web hosting entrepreneurs to get hands on experience in running a hosting service.
"For some time, we had been missing out on customers who needed something more than just shared hosting" says Jason Newman, CEO of WebHostingPad.com. "We were missing out on a key demographic in customers looking for VPS and reseller hosting, and we hated having to turn people away because we did not offer it."
When asked about the recent expansion, head VPS administrator Chris Dolan explained "it's been a long time coming. We used to have a lot of potential customers asking if we offered these sort of hosting packages and we unfortunately would have to say no. Now we are able to cater to a wider range of clientele." He also went on to say "it has taken a while for everything to get up and running at a point where we are happy with what we offer but I'm glad we did it this way. I would rather take the time to make sure everything is right with the product we offer instead of rushing it out and having all sorts of problems."
All signs point to WebHostingPad.com making a great decision in expanding their hosting packages. Customers will now be able to select from a wider range of options, and are sure to find one that fits their hosting needs.
# # #