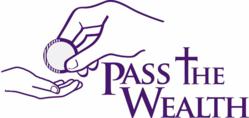 These quarters may be the first time a person reads a Bible verse...
York PA (PRWEB) February 29, 2012
Pass The Wealth was created to get the Word of God (literally) into the hands of others. Pass The Wealth (PTW) sells Scripture verse decals to place on the back of U.S. quarters.
"These quarters may be the first time a person reads a Bible verse or it may touch them at a poignant moment in their lives. Either way, I believe these decaled quarters will change at least one life," said board member Alan Snook.
Since going live with the website in March 2011, PTW has distributed more than 10,000 decals. Board members can identify more than 24 states and three countries in which decaled quarters have been found.
Many people are using the coins for their regular purchases, while others intentionally distribute them. A few of the reported distribution options are including them in a tip after a meal, leaving them behind in restrooms and at gas pumps for the next person to find, using them as bridal shower favors, and handing a quarter with the military decal to servicemen and their families in airports. To-date all responses have been positive and encouraging.
Numerous stories have been shared how the Scripture-decaled quarter has touched lives. Some testimonials are listed on the website.
PTW offers standard and custom decals in both English and Spanish. There are 11 verses in the standard purple and white line, plus one standard verse in red, white and blue military option. There is also one standard wedding/engagement decal. Pass The Wealth released a Christmas decal in December 2011. Custom verses may also be ordered.
The website offers the free option of buying your decals in honor or in memory of someone special.
Each decal costs twenty-five cents. There is an additional small one-time set-up fee only if you order a custom verse. There is no minimum order. Any proceeds from the decal purchases will be donated to Christian ministries with a similar mission as PTW.
The first question most people ask is "is this legal?". The answer is yes. Because the sticker is removable and does not deface the coin, it is legal and does not alter the value of the quarter.
About Pass The Wealth
Pass The Wealth was formed after the founder read the book, "One Thing You Can't Do In Heaven" by Mark Cahill. God inspired this ministry to empower, encourage and enable the passing of the Lord's Word. For more information, visit http://www.PassTheWealth.org.
###