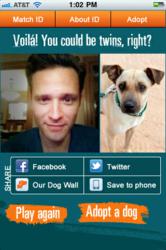 In every community, there are far too many dogs waiting in shelters, out of the sight of most people who don't even know they exist.
Kanab, Utah (PRWEB) February 01, 2012
Ever wondered if you had a doggie double out there somewhere? If you've ever pondered what your puppy peer might look like, Best Friends Animal Society has a new mobile phone app that can help you find that long lost littermate.
A new phone application called "My Dog ID," free for both iPhones and Android devices, is designed to have a little fun while raising awareness of the hundreds of thousands of dogs waiting in shelters to be seen and adopted. Sadly, because they are behind closed doors, they remain invisible to the general public.
The iPhone app, which is great fun for any dog enthusiast, is available at: http://itunes.apple.com/us/app/my-dog-id/id494073770?mt=8 and the Android app is here: https://market.android.com/details?id=com.phonegap.mydogid&feature=search_re It
The app enables users to take photos of themselves, friends and family, then uses facial recognition technology to uncover their dog twin. From there, they can share the photos on social network sites or on Best Friends' user-generated-content wall. http://www.invisibledogs.org/DogWall.aspx The matching, all in fun, is done by the Face.com API application. It's a fun, social game to play while out with friends that will make users the hit of their next party, family soiree or yappy hour.
Actor Seamus Dever, who plays the charming and witty Detective Kevin Ryan on ABC's hit show Castle, admits he's started seeing invisible dogs. Dever downloaded the My Dog ID app and discovered his doggie duplicate, an appropriately adorable and enchanting terrier-type. "My long lost twin," he said. "Find your own invisible dog. Download this app."
Dever also lent his charm and wit to the invisible dog cause in this YouTube video encouraging folks to adopt a pet from a shelter: http://www.youtube.com/watch?v=iX9WdCNMFzc&feature=relmfu
Besides the fun of finding one's canine carbon copy, the app invites users to join the Invisible Dogs grassroots movement and help create a time of No More Homeless Pets®. Anyone looking for a new furry friend can enter a zip code to search through Petfinder.com for adoptable dogs available from local shelters and rescue groups. Users can also make small text message donations to support animal welfare powered by MGive.
They can also pledge to adopt an invisible dog from a shelter or rescue group in their own community. The My Dog ID app was developed for Best Friends by Crescent Group.
"In every community, there are far too many dogs waiting in shelters, out of the sight of most people who don't even know they exist," said Claudia Perrone, marketing specialist for Best Friends Animal Society. "These frequently forgotten dogs want nothing more than to be seen and given a second chance at life in a loving home."
In many shelters, as many as one-third of the canine residents are purebreds. Nationally, nearly 170,000 dogs currently await adoption from shelters and rescue groups on http://www.petfinder.com.
Best Friends Animal Society launched the Invisible Dogs campaign last fall to help spotlight shelter dogs. The campaign features the nostalgic, 70's-style invisible dog leashes, hoping to direct the public's attention to the hundreds of thousands of very real, but unseen dogs hoping to be adopted in U.S. animal shelters.
Along with shelters, rescue groups and compassionate individuals, Best Friends works to get shelter dogs into forever homes. Learn more about the campaign, join the Invisible Dog movement, take a pledge to adopt or walk a shelter dog, and find out how to organize an Invisible Dog event at http://www.invisibledogs.org.
About Best Friends Animal Society®
Best Friends Animal Society is a nonprofit organization building no-kill programs and partnerships that will bring about a day when there are No More Homeless Pets®. The society's leading initiatives in animal care and community programs are coordinated from its Kanab, Utah, headquarters, the country's largest no-kill sanctuary. This work is made possible by the personal and financial support of a grassroots network of supporters and community partners across the nation.
To become a fan of Best Friends Animal Society on Facebook go to: http://www.facebook.com/bestfriendsanimalsociety
Follow Best Friends on Twitter: http://twitter.com/BFAS
###