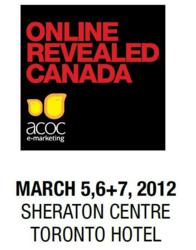 We know that the success of the Conference is due the commitment from the industry to continue to evolve with the changes in Digital Marketing. Patricia Brusha
Toronto, ON (PRWEB) February 03, 2012
The 2-day conference focused on marketing tourism online will once again be held in Toronto at the Sheraton Centre Hotel in conjunction with the Hotel Association Marketing Conference, bringing together thought leaders and innovators in marketing tourism online.
Now in its 7th year, Online Revealed is attended and supported by such brands as Travelzoo, Travelodge, Google, Facebook and more. With a mandate to educate and support the Canadian travel industry including Hotels, Hotel Brands, Destination Marketing Organizations, suppliers and attractions. Online Revealed continues to evolve to bring attendees the most relevant and up to date trends and tactics to support the ever evolving digital medium and reveal insights into what the tourism industry can expect next in marketing travel online.
"We know that the success of the Conference is due the commitment from the industry to continue to evolve with the changes in Digital Marketing" said Patricia Brusha, Co-founder of Online Revealed and A Couple of Chicks e-Marketing. "As such our focus has remained on building good content and attracting innovative and inspirational topics and speakers. We we are excited to kick off this year's conference with Nikki Germany, Head of Travel at Google Canada, and Steve Irvine, Senior Business Leader at Facebook Canada, with a special Q&A panel lead by Tom Gierasimczuk, Editor-in-Chief for Marketing Magazine."
The 2011 conference was attended by over 500 travel industry professionals including CEO's, Marketing and Sales Directors, Revenue Managers, Digital Community managers and Brand Directors. The conference is expected once again to be a sell out with Early Bird Pricing still available until February 6. Visit http://www.onlinerevealed.com/register_now.php. to register.
About Online Revealed
The Online Revealed tourism marketing conference provides travel and tourism professionals with unique and innovative online marketing education, with an agenda that includes educational workshops, keynotes and panel discussions, all driven by the industry for the industry. The event is produced by leading online marketing firm, A Couple of Chicks e-Marketing, http://www.acoupleofchicks.com in association with Big Picture Conferences. Online Revealed Canada is also home to the 2nd annual Google Digital Tourism Marketing awards. Visit http://www.onlinerevealed.com for more information.
###