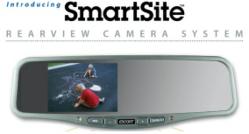 We've raised the bar with Escort Live™ and continue to redefine 'driving smarter' for both car dealers and their customers with new technologies like SmartSite™ for obstacle detection, Smart Office™ for business fleets and MobileTV™ for TV on the go.
Las Vegas, NV (PRWEB) February 02, 2012
ESCORT Inc. (http://www.ESCORTinc.com), designer and manufacturer of the world's best premium automotive accessories, announced the debut of its all-new ESCORT SmartSite™ RearView Camera System at the 2012 NADA Show (National Automobile Dealers Association) in Las Vegas this week. The new SmartSite™ product is one more in a continually expanding line of category leading product opportunities designed exclusively to help car dealers increase their sales growth.
ESCORT will also feature two products that were announced at last month's CES Show (Consumer Electronics Show) – ESCORT's QuickStart™ Remote Start and Security System and the all-new SmartRadar™ Bluetooth enabled windshield mount radar detector.
ESCORT is encouraging NADA show attendees and car dealers to see the new SmartSite™ RearView Camera System, QuickStart™ Remote Start, the new SmartRadar™ detector and ESCORT's full line of premium automotive accessories at the ESCORT NADA Show booth #2878 (Central Hall, Las Vegas Convention Center).
ESCORT will also be displaying the award-winning ESCORT Live™ ticket protection app, the ultimate social network for the road, and ESCORT's SmartOffice™ mobile rugged PC office solution for business fleets and ESCORT's MobileTV™ consumer mobile digital TV solution.
"It's widely known that ESCORT provides the most advanced radar and laser defense on the market," said ESCORT President and CEO John Larson. "We've raised that bar with Escort Live™ and continue to redefine 'driving smarter' for both car dealers and their customers with new technologies like SmartSite™ for obstacle detection, Smart Office™ for business fleets and MobileTV™ for TV on the go."
With its anti-glare 4.3" LCD full color display screen integrated into an OEM rearview replacement mirror assembly, ESCORT SmartSite™ uses a rear-mount camera (included) to provide customers with a real-time field-of-view of obstacles in their path when operating their vehicles in reverse. With safety in mind, ESCORT is providing car dealers with a product that directly helps their customers drive smarter by dramatically increasing awareness of their vehicle's immediate rearview environment.
"Our message around the new ESCORT SmartSite™ Reverse Camera System is simple," said Dave Smidebush, Vice-president of Marketing. "Drivers typically understand that there is always the possibility of risk when backing up—our new SmartSite™ Reverse Camera System is about giving drivers complete confidence in knowing what's behind them before they make any unknown move when backing."
In addition to the new SmartSite™ Rearview Camera System , ESCORT is demonstrating several other car dealer specific product opportunities.
ESCORT SmartOffice™ rugged, mobile PC consolidates complete office functionality into a single, lightweight, connected mobile device. Based on familiar Microsoft Windows 7 OS and complete PC functionality, SmartOffice™ includes navigation, point-of-sale credit card processing, fleet vehicle management, remote inventory/CRM management, barcode/RFID reader, reverse camera option and fleet transportation/logistics monitoring. SmartOffice™ gives business fleets and service providers office tools and more right where they work, in the field, in real time.
ESCORT is also spotlighting MobileTV™, a connected Mobile Digital TV (MDTV) receiver that quickly and easily allows consumers to receive digital TV on their WIFI-enabled smartphone, iPad or similar video-capable device while in moving vehicles.
ESCORT will be demonstrating its highly successful multi-award winning ESCORT Live™ ticket protection network. Winner of five major industry awards, ESCORT Live™ uses Bluetooth technology embedded in SmartCord Live™ cords and a unique app for the driver's smartphone. When alerts are detected, they are transmitted to the ESCORT Live™ "cloud" and then broadcast across the ESCORT Live™ network, notifying drivers of potential ticket threats. In addition to network alerts, the new smartphone app technology provides ESCORT's industry-leading Defender® database of red light and speed-ticketing camera locations and speed traps as well as ESCORT's patented GPS features including posted speed limit information, over-speed limit alerts, live traffic for route optimization and more.
ESCORT's appearance at NADA's national annual event in Las Vegas affirms the company's strong commitment to supporting automotive dealers with increased opportunities to sell and generate additional revenue streams by offering them ESCORT's premium automotive accessories.
Exclusively for NADA, ESCORT is also highlighting their complete line of custom installed radar detection systems as an incremental profit opportunity for dealers. ESCORT's premiere installed model, the PASSPORT 9500ci™ Custom Installed unit, is easy for dealers to sell. A major reason is ESCORT's unrelenting radar and laser detector dominance as exhibited with the 9500ci series. Another example is the PASSPORT 9500ci's award winning GPS-Powered speed and location intelligence. The 9500ci is the world's only custom installed radar and laser defense system to possess this type of GPS advanced technology. And to help make it even easier for dealers to sell custom installed systems, ESCORT offers several lower price point models including the PASSPORT 8500ci Plus™ and the extremely competitive PASSPORT 8500ci™ custom installed units. Installation costs, a major concern for dealerships, are dramatically reduced with ESCORT's quick connect wiring harness and self-test diagnostics that communicate proper operation upon completion.
ESCORT's complete line of premium automotive accessories including the new ESCORT SmartSite™ Reverse Camera System, ESCORT Live™, ESCORT SmartOffice™ mobile rugged PC and ESCORT's MobileTV™ solution, will be on display at the ESCORT show booth (Central Hall, booth #2878) during the NADA show (February 3-6) at the Las Vegas Convention Center here. For complete details on these and other ESCORT products, visit ESCORTinc.com or call 800.433.3487.
About ESCORT Inc.
ESCORT Inc. is the leading manufacturer of high-performance radar and laser detectors, the patented ESCORT Live™ real-time ticket protection network, commercial fleet ESCORT SmartOffice™ rugged mobile PC, ESCORT MobileTV™, Guardian Alert reverse obstacle detection systems, Entourage GPS-enabled navigation and tracking products, ESCORT QuickStart™ and other Drive Smarter products. ESCORT manufactures products under the ESCORT, PASSPORT, REDLINE, SOLO, Vector and BELTRONICS brands. The company is headquartered in West Chester, Ohio, with its principal manufacturing facility located in Mississauga, Ontario, Canada.
Editorial Contact:
Ron Gividen
Escort Inc.
513.870.8500
press(at)escortinc(dot)com
###