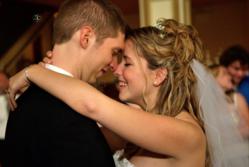 We take care of every last detail of your wedding reception, down to accessories like table linens and napkin holders. Our experienced and fully-equipped staff will serve all of your wedding event needs. -- Rossie Williamson, director of sales
Des Moines, Iowa (PRWEB) February 01, 2012
Love is in the air in Des Moines as the city kicked off its wedding season with a bridal exposition on Jan. 8 – and one Des Moines hotel boasts an ideal atmosphere for hosting weddings.
Ramada Tropics Resort & Conference Center can assist betrothed couples with creating a beautiful rehearsal dinner and reception site, serving a delicious menu, and assisting with music and video services. The Des Moines hotel can also provide a block of clean, comfortable hotel rooms for wedding guests.
"Hosting a spectacular wedding takes a good six to 12 months, so now is the time to begin planning your spring and summer weddings," said Rossie Williamson, director of sales for Ramada Tropics Resort. "You can savor your wedding celebration more fully by preparing thoroughly for the big day."
According to YourWeddingIowa.com, six to 12 months before the big day, brides-to-be and their grooms should determine a wedding budget; choose a ceremony site; select wedding party attendants; select wedding party attire; select a caterer; select reception music; select a videographer; select a florist; select a photographer; and have engagement photographs taken.
This is also the time when a couple should decide on a reception site and organize reception details.
"We know you have many choices for Des Moines hotels in which to host your rehearsal dinner, wedding reception and out-of-town guests -- but we hope you will choose Ramada Tropics Resort, based on our years of experience organizing and hosting gorgeous wedding festivities," said Williamson. "With a 5,200-square-foot ballroom and over 10,000-square-feet of flexible breakout space, the Ramada Tropics Resort & Conference Center is an elegant Des Moines wedding reception venue."
Ramada Tropics offers an extensive wedding catering menu including a variety of entrée and dessert choices certain to satisfy each and every guest.
"We take care of every last detail of your wedding reception, down to accessories like table linens and napkin holders. Our experienced and fully-equipped staff will serve all of your wedding event needs," assured Williamson.
Williamson said about four to six months before the wedding, hotel rooms should be reserved for out-of-town guests and the bridal party. Ramada Tropics Resort is home to attractions that all wedding guests can enjoy – from bridesmaids and groomsmen, to flowers girls and ring bearers, to the entire extended family that has traveled to attend the wedding.
Ramada Tropics has 166 freshly-renovated rooms and suites, and poolside lodging is available next to the 18,000-square-foot indoor Buccaneer Bay water park. The Buccaneer Bay features three swimming pools, two 150-foot tube water slides, a large pirate ship, a hot tub and a poolside Tiki bar with fun, fruity tropical drinks.
The Tropics has extravagant two-room suites available, with generous living rooms and cozy king- or queen-sized beds. These suites feature two flat-screen televisions and comfortable sofa sleepers.
Ramada Tropics also stands out among Des Moines hotels by offering two Presidential Suites, which provide the ultimate in luxury. With three flat-screen televisions, two bedrooms, a living room, wet bar, fireplace, refrigerator and microwave in each Presidential Suite, guests will fully be able to relax and enjoy their stay.
"The Presidential Suite is luxurious and comfortable – a perfect room for the bride and groom to stay on the night of the wedding reception," said Williamson. "They can wake up the next morning to a nice breakfast served in one of our banquet rooms – and invite remaining guests to watch them open their wedding gifts before jetting off on the honeymoon."
All guest rooms and suites come with several passes to the Buccaneer Bay water park.
The Des Moines hotel also features an on-site restaurant, Castaways Bar & Grill, which serves breakfast, lunch and dinner.
To learn how to make Ramada Tropics Resort your wedding headquarters for your big day, call 515.278.0271 or visit http://www.ramadatropicsresort.com/special-occasions.php.
About Ramada Tropics Resort & Conference Center
With 166 newly-renovated rooms and suites, the Ramada Tropics features an 18,000 square foot indoor water park, with three pools, two water slides, a pirate ship, hot tub, and poolside Tiki bar. The hotel also features a conference center, Castaways Bar and Grill and a fun, friendly atmosphere for business travel and family vacations. Visit Ramada Tropics online at http://www.ramadatropicsresort.com.
###