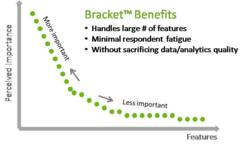 Bracket™ can handle a large number of features without inducing respondent fatigue or sacrificing data quality and analytic power.
Philadelphia, PA (PRWEB) February 16, 2012
TRC Market Research (http://www.trchome.com) announced today their new approach for product development research - Bracket™. Bracket™ is designed to help marketers overcome the complex product development challenges common in today's business environment. As TRC's president, Rich Raquet, puts it "there are more choices to evaluate, more choices for respondents to make and more ways than ever to message to consumers. Prioritization research is supposed to identify winners and losers. The more choices there are, however, the more traditional approaches such as basic importance ratings or even more complex Max-Diff exercises can fall short".
When lists of options grow long, surveys become cumbersome, and participant engagement diminishes. In turn, their ability to sort out more from less important factors is reduced. Bracket™ overcomes these challenges and generates powerful individual-level utility scores which reveal both the rank order of choice factors and the distance between ranks. Bracket™ can evaluate results across the entire population, or by critical segments.
Bracket™ works by applying a tournament-style approach to prioritization, and begins with choices grouped into sets. Respondents choose their favorites from each set, and these favorites progress onto the next round where they're once again grouped (bracketed) and evaluated. Ultimately each person is given a final set of choices representing their unique best of the best and is asked one last time which they most prefer.
Bracket™ is an effective and flexible tool that can identify priorities during the product development process. It tries to keep respondents engaged, with surveys that are shorter, more challenging, and ultimately more cost-effective.
In their white paper article titled A Dynamic Approach to Feature Prioritization, Rajan Sambandam, Ph.D., Chief Research Officer, Pankaj Kumar, Ph.D., Executive VP, and Westley Ritz, Senior Analyst, explain in detail how the technique works and how it can be applied. They also provide a real life study example validating the technique.
The article can be found at TRC's white paper library among many other choice-related white papers.
TRC Market Research is a primary market research and predictive analytics firm with new product development focus that pairs customized solutions with senior-level attention to help solve business problems. TRC provides expertise in designing and implementing successful new product development and choice-related research, such as product configurators, discrete-choice conjoints and others.
Philadelphia-based TRC Market Research is affiliated with the Council of American Survey Research Organizations (CASRO), American Marketing Association and ESOMAR.
For more information, contact Lenka Kolar at 215.641.2225
# # #