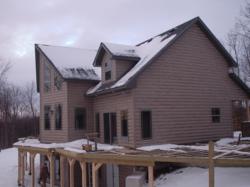 Get rid of the suburban cookie cutter look with log cabin siding
Deer Park, NY (PRWEB) February 22, 2012
Say good-bye boring home siding and hello to the rich, historic look of a cozy cabin, thanks to Faux Wood Beam's new line of vinyl log siding. With four colors, homeowners can achieve a variety of authentic looks for their exterior home design.
"People hate cookie cutter looks," said Steve Barron, president of Faux Wood Beams. "Vinyl siding maybe easy and affordable, but every house looks alike. No one wants that. Our log cabin siding instantly gives a home character while still keeping it low maintenance."
Instead of trying to dress up the same old siding by running it vertically or diagonally, Faux Wood Beams' faux log siding creates the appearance of a log cabin at a fraction of the price of the price of real wood. Whereas an actual log cabin can be a magnet for hungry termites and carpenter ants, the siding's vinyl makeup holds no attraction for such pests.
Faux Log Cabin Siding is Kind to the Environment
No trees have to die to create a log cabin appearance. Faux log siding allows homeowners and designers to create a rustic appearance or the look of a historic home without hurting a single forest.
Heavy timber beams are difficult to transport and install. Vinyl log siding is lighter yet durable, easily able to stand up to routine wear and tear. Because of its light weight, it can be used on both modular and mobile homes in addition to traditional buildings. Both skilled DIYers and contractors can install it easily.
"Here at Faux Wood Beams we like to give decorators and homeowners the widest range of design options possible so they can create a dream home. Due to the popularity of our faux bamboo panels, we knew we wanted to expand into other types of faux wood paneling," said Steve Barron.
With four gorgeous colors, there's a faux log siding for any taste or design. Vermont maple is a light, traditional color that's neutral enough to go with any design or décor. Smoke looks like aged wood that has naturally grayed from years of exposure to sun and weather. Cypress has the dusky tone of genuine, slightly aged cypress logs. Spice is perfect for a slightly bolder look that mimics a reddish stain.
Finally homeowners can have the convenience of vinyl siding without sacrificing style or distinction. Even better, DIYers can create the rustic look of a log cabin without the expensive costs of hiring a carpenter. Faux log cabin siding provides the best of all possible worlds.
FauxWoodBeams.com leads the field of polyurethane wood beam products, ceiling panels and architectural products. Its products have been regularly featured on television shows such as "Celebrity Apprentice" and numerous appearances on "Extreme Makeover: Home Edition." FauxWoodBeams.com is a subsidiary of Barron Designs Inc., a family-owned home improvement business operating since 1972. For more information, visit FauxWoodBeams.com.
# # #