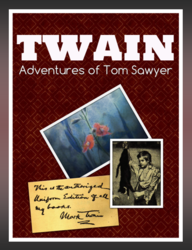 Like it or not, people do judge a book by its cover -- even a digital one. With our tool you achieve a great design for a ridiculously low price-point
Ashland, OR (PRWEB) February 08, 2012
Folium Partners, Inc. announced a major upgrade to their cornerstone product—Folium Cover Designer™. Beginning February 9, 2012, Folium Book Studio will release hundreds of new image layers as well as core feature upgrades to their cover design tool. As part of exclusive arrangements with contributing designers, some of the new stock elements will have not been made available for use anywhere on the web prior to their unveiling in Folium Book Studio. Folium Partners felt the need to provide the best available tool set for one of the most important marketing components in distributing and marketing an e-book in today's digital environment.
"Like it or not, people do judge a book by its cover—even a digital one. There are many marketing studies that support the critical nature of book cover design and how this corresponds to sales. A good cover captures the essence of the book; it draws attention and makes it distinguishable on the e-reader shelf. With so many new books in the digital market, authors and publishers must consider the look and feel of each project. Prior to the integrated approach offered by Folium Book Studio, cover art execution was either painfully unprofessional or very professional and subsequently quite expensive. Folium Cover Designer changes that dynamic and gives independent writers and smaller publishers the best way to achieve a great look for a ridiculously low price-point," said John Lee, CEO and co-founder.
The newly launched offering includes a broad collection of graphic elements, which can be used as layers to build up rich textures, shadowing and light or as starter templates. There has also been an expansion of stock photos, fully designed backdrops and other useful pieces.
Folium Book Studio offers the cover design tool and gallery elements as part of its complete package. It is free to all customers of the service.
"This announcement will spark the creative do-it-yourself spirit of independent publishers. The product is designed to fit each project, whether you bring artwork from another source, need to replace an existing cover, crave a visual refreshing, or just want to have fun and play 'what-if'," added Jay Tapp, Chief Strategy Officer and co-founder. "We built a creative space for everyone to come and make something. We know that our customers will appreciate the ease of use and be proud of their results."
Through February 14 any writer or designer can use the complete service for only $29.95 per project, which includes the Folium Partners No-Risk Guarantee offer. As a part of their announced educational outreach, Folium Book Studio offers free seminars regularly. Information and sign up can be found on: http://www.foliumbookstudio.com
Earlier this year Folium Partners, Inc. launched the first phase of its innovative self-publishing toolset that instantly converts manuscripts into the digital formats required for electronic books (e-books) such as the Apple iBook®, Amazon Kindle™, Barnes & Noble Nook™ and Sony Digital Reader®.
Folium Book Studio gives millions of self-publishing authors and tens of thousands of small-to-medium size publishers the ability to instantly upload manuscripts into an easy-to-use, online app that translates Microsoft® Word documents and other word processing document formats into complete digital works ready for distribution.
Authors and publishers can simply go to the secure site, create an account and select a service. Folium Book Studio not only converts manuscripts into the standard EPUB format, but provides tools to design the book layout, create cover art, and support photos and illustrations uploaded directly from the author's computer. All work can be reviewed and edited multiple times directly in the WYSIWYG editor. The finished product can be exported for distribution or saved securely online for a year. The service offers a free ISBN for those who require one. Folium Book Studio makes it possible to publish digital works quickly and easily, saving authors and publishes hundreds of dollars compared to current e-publishing methods.
Visit http://www.FoliumBookStudio.com for more information, the upcoming webinar schedule, and registration. The company will also present its online tools at the 2012 San Francisco Writers Conference, February 16–20.
###