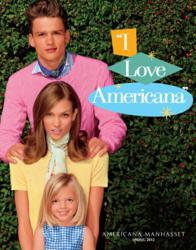 We didn't want to be subtle this season, but decided instead to run with the theme in a big, fun way, with a ton of kitschy props and a wink and a smile.
Manhasset, Long Island (PRWEB) February 09, 2012
This month, Americana Manhasset debuts its colorful and kitschy 60-page Spring Book, "I Love Americana." Spring ready-to-wear, accessories and jewelry from the most luxurious brands in the world are captured in a high-style picture book starring top runway and editorial models, Karlie Kloss and Simon Nessman. The book will be direct-mailed to 110,000 targeted households, and the images will be featured in national ads in The New York Times Style Section and T Magazine, in regional publications such as Hamptons Magazine, and prominently on Americana's website, americanamanhasset.com.
In conjunction with the still images, Americana Manhasset will release a 30-second short film, also entitled "I Love Americana." The black-and-white piece is a fashionable spoof on the opening credits to classic mid-century television shows like "Leave it to Beaver." It features Kloss and Nessman (who also lend their names to the piece), as the quintessential 1950's domestic couple, complete with children, a dog and a tray of lemonade. Along with appearing front and center on Americana's website, this 30-second spot will appear on New York City taxi televisions for five days during New York Fashion Week.
Americana's Spring campaign also includes a 3-minute behind-the-scenes video, "The Making of 'I Love Americana," which gives viewers a fun, fast-paced, insider's glimpse into the photo and video shoot that took place on location in Los Angeles and Malibu. The music and editing of this piece epitomize the 1950's vibe established throughout the entire campaign.
Photographed, produced and styled by Laspata/DeCaro, the campaign has a decidedly campy (yet always sophisticated) sensibility, with Americana's heroine stylishly basting a turkey, dusting in Dior and sharing a milkshake at the drive-in with her man. A museum-quality 1959 Ford Galaxy Skyliner is the family car, their perfectly groomed collie barks on cue, and a milkman direct from central casting delivers to their door.
"The prevalence of 1950's inspired looks on the runways provided us with the creative juice for Americana Manhasset's Spring campaign," said Charles DeCaro. "We didn't want to be subtle this season, but decided instead to run with the theme in a big, fun way, with a ton of kitschy props and a wink and a smile. As always, although we put forth a strong editorial voice, it is paramount that the fashion and respective designers' messages remain the focus." From Chanel and Louis Vuitton to Tory Burch and Vince, each brand enjoys a unique image that also works as part of the whole.
Americana Manhasset is a premier collection of over 60 fine shops, including Hermès, Prada, Louis Vuitton, Gucci, Ralph Lauren, Cartier, Ermenegildo Zegna, Van Cleef & Arpels, Dior, Hirshleifers, London Jewelers and more, all within a unique outdoor environment designed by renowned architect Peter Marino and landscape designer Oehme van Sweden. Americana Manhasset offers a complimentary Personal Shopping Service, a remarkable luxury fashion and gift resource. Located on Long Island's beautiful North Shore, Americana Manhasset is 20 miles from Manhattan and 50 miles from the Hamptons. For more information on Americana Manhasset, check out americanamanhasset.com, Americana Manhasset Blog, Americana Manhasset Facebook Page, and follow us on Twitter and Pinterest at @AmericanaShops!
Additional images from the 2012 Spring Book are available upon request.
###