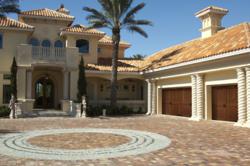 Replacing an older garage door with a new, energy efficient model can reduce energy loss through the garage by up to 71%.
Cincinnati, Ohio (PRWEB) February 06, 2012
Clopay's Canyon Ridge Collection carriage house style garage doors will be featured on the Cool Energy House, a remodeling show home project supported by the U.S. Department of Energy's Building America program.
The goal of the Cool Energy House is to demonstrate more than 10 proven, energy-efficiency upgrade measures that together will reduce the energy usage of a 1996 "spec-built" home by more than 50 percent, while improving overall building quality, comfort, safety and durability.
The key energy-saving measures include: window, door, appliance, lighting and pool pump replacement; air sealing and re-insulation; mechanical system replacement and air duct sealing; and cool roofing and novel building envelope additions.
The house will be open for tours during the International Builders Show being held in Orlando, Fla., February 8 – 11, 2012. Interactive tours will also be available online. For details on the project, visit http://www.forresidentialpros.com/video/10476087/an-intro-to-the-cool-energy-house-retrofit.
Insulated Garage Doors Lower Energy Costs, Improve Comfort Year-Round
"Homeowners shouldn't overlook the garage door when it comes to improving the energy efficiency and comfort of their home," says Pat Lohse, vice president of marketing for Clopay, North America's leading residential garage door manufacturer. "After all, it's the largest opening on a house and probably one of the most frequently used entrances."
According to a comparison study conducted by Clopay engineers, replacing an older garage door with a new, energy efficient model can reduce energy loss through the garage by up to 71%.
"Since attached garages share common walls with the house, any hot or cold that travels through the door will ultimately affect the adjacent living areas. An insulated garage door can help stabilize temperatures to reduce heat losses or gains," adds Lohse.
Clopay's Canyon Ridge Collection – Faux, Fabulous and Green
Architect Patricia Gaylor selected three Clopay Canyon Ridge Collection garage doors for the Cool Energy Home's three-car attached garage.
The Canyon Ridge Collection is a line of high R-value carriage house style garage doors constructed from a durable, low-maintenance composite polymer material that looks like real wood.
The five-layer door features a ½"-thick cladding adhered to a 2" three-layer polyurethane insulated steel base door with a thermal break for superior strength and energy efficiency. With a 19.2 R-value, it's well insulated to improve comfort and energy efficiency year-round.
Designed for homeowners who love the look of wood but not the upkeep, the Canyon Ridge Collection offers the best of both worlds: the realism, design flexibility and beauty of wood along with the benefits of a low-maintenance, energy-efficient, insulated steel garage door.
Unlike real wood, the door is moisture resistant, so it won't rot, split, shrink, separate, or crack, so it's much easier to maintain long-term.
The cladding material and overlays are molded from actual wood species to duplicate the natural texture and grain patterns that give wood doors a one-of-a-kind character. And like real wood, the surface can be painted or stained.
Clopay offers many other Canyon Ridge Collection designs, cladding types and finishes to fit a variety of home styles. For more information, visit http://www.clopaydoor.com/canyonridge.aspx.
About Clopay
With three manufacturing facilities and 51 distribution centers across the U.S. and Canada, Clopay Building Products is North America's leading manufacturer of residential garage doors and a preferred supplier of commercial overhead sectional and rolling steel doors.
Bringing nearly 50 years of experience and innovation to the building products industry, the company maintains a strong family of brands including Clopay®, Holmes Garage Door Company® and IDEAL Door®. Since 1996, Clopay is the only residential garage door brand to earn the Good Housekeeping Seal.
In 2010, the company launched fiberglass and steel entry door lines to complement its popular residential garage door styles. Today, Clopay is the only manufacturer in the industry to offer homeowners the option to coordinate the appearance of both their front door and garage doors.
# # #