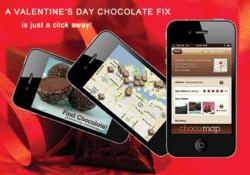 Her descriptions are guaranteed to put your chocolate lust over the top.
(PRWEB) February 09, 2012
"Valentine's is one day that's no sweat for gifting. . . a bottle of fine wine, a beautiful dinner and a box of exquisite chocolates will say all the right things when the intent is to give the best," says Pam Williams, founder of Ecole Chocolat, an online professional chocolatier and chocolate-making school.
And when it comes to picking out the best in chocolates, "you can't go wrong by visiting one of the more than 2,000 chocolate shops listed on chocomap.com and instantly accessible through the Find Chocolate! App available for free on iTunes, Android Market and Amazon," says Williams, creator of the app, which has signed on almost 8,000 Android and iPhone users.
The app allows users to find the chocolate shop nearest to where they are, no matter where in the world. The Find Chocolate! App lists shops from Beijing to Belize to Brussels, making the first order of business in finding the perfect Valentine's gift quick and easy.
"The hard part will come when you have to choose from the wide variety of intriguing flavors and gorgeous little works of art in the chocolatier's display case," Williams says. "Will it be Granny Smith Apple and White Chocolate from Fort Myers' Norman Love Confections? Taittinger Champagne Truffles from New York's Jacques Torres? Dark Gray Salt Caramels from Fran's in Seattle?"
Williams, a leading expert in fine chocolate, makes the job easier with her Hall of Fame on the Bonbon&Bars page of chocomap.com. There, she offers dozens of almost unbearably delicious-looking bonbons from chocolatiers all over the world. "And if the pictures don't get to you, her descriptions of each are guaranteed to put your chocolate lust over the top."
So, quick! Get out the Find Chocolate! App and get going to the nearest chocolate shop!
Founded in 2003, Ecole Chocolat Professional School of Chocolate Arts offers a portfolio of programs for chocolate making – mastering techniques while gaining the expertise and business knowledge needed to become a professional chocolatier or chocolate maker. Ecole Chocolat's founder Pam Williams is the recipient of the Award of Excellence in Service to the Industry from the Fine Chocolate Industry Association. See our website: http://www.ecolechocolat.com
###