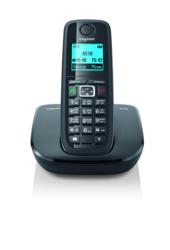 "Cordless phones are the most convenient way of communicating while multi-tasking inside the home to talk with loved ones, especially for busy mothers," said Roberto Bruder Aguiar, Gigaset Communications President North and Central America.
Mexico City, MX (PRWEB) February 06, 2012
Gigaset Communications and TV Azteca's Venga la Alegria have reached a licensing agreement that enables the DECT (digital enhanced cordless telecommunications) Munich, Germany based leader to raise its consumer profile across Mexico. This comes on the heels of the much anticipated and national release of Gigaset's brand new A510A device.
The agreement includes on-air promotions and product integrations on one of the most widely watched morning shows across Mexico. It includes the rights for the Gigaset brand to position itself as an official product of the show. It also provides the use of Venga la Alegria's logos in conjunction with the brand in what is Gigaset's first advertising and commercial foray in the country with out of home, print, retail point of sale and e-commerce advertising.
"Venga la Alegria is a respected program throughout Mexico and we feel that this platform is well aligned with the quality, innovation and high standards that Gigaset brings to consumers through its products," said Tony Stankus, Product and Marketing Director, North America Gigaset Communications. "We're thrilled and excited about this new partnership."
"Cordless phones are the most convenient way of communicating while multi-tasking inside the home to talk with loved ones, especially for busy mothers. We've chosen "Venga la Alegria" to address people who are looking for convenience, superior functionality and the highest quality phones available in Mexico," added Roberto Bruder Aguiar, President North and Central America. "With a high percent of household decision-makers for home products being women, V.A. is the perfect vehicle for us to launch our entertainment marketing initiatives in Mexico."
The announcement follows the recent rollout of Gigaset's A510A models in Mexico. It is a stylish phone with an answering machine that offers high-quality design and features. It has a large, illuminated, 1.8" display that makes reading and navigating the menu clear and easy. All calls offer brilliant sound quality thanks to the Gigaset A510A's HSP™ technology so the calls don't get any interference sounds. The integrated answering machine with 25 minutes of recording time ensures that missed callers can leave their voice messages. An environmentally friendly choice in telephony, the Gigaset A510A features Eco Mode Plus with no radiation and a low power consumption of <0.4W. It also stores up to 150 contacts. Users can also record conversations. The reception reaches up to 50 meters indoors and 300 meters outdoors. The phone's battery lasts 20 hours while calling and 220 hours on standby mode.
The A510A also comes in different combinations that include single and duo handset availability, optional answering machine function(s) and with different handset arrangements.
Gigaset Launches A510 Give-Away via Facebook.
Company asks consumers to simply go to https://www.facebook.com/gigaset, "Like" the page and 'tell them how a phone call changed your life' for a chance to win a free A510!
About:
Gigaset Communications GmbH is one of the world's largest manufacturers of cordless phones and the clear market leader in Europe for DECT phones. With its headquarters in Munich, the company develops, manufactures and distributes high-quality products. Its portfolio includes fixed-network phones, Voice over IP devices and telephone systems. The primary production site is in Bocholt, Germany, where the Gigaset products are manufactured under the most stringent quality and environmental standards.
Additional press releases are available for download at http://www.gigaset.com/press.
You can find out more about Gigaset Communications at http://www.gigaset.com.
About:
Venga la Alegría:
Venga la Alegría is a magazine show for housewives. It has sections on cooking, beauty, sex, entertainment news, horoscopes and information about the world. It's hosted by Fernando del Solar, Raquel Bigorra, Ana María Alvarado, Sergio Sepúlveda, Maritere Alessandri, Mauricio Mancera, Raúl Osorio, Tábata Jalil, Tania Rincón, Yolo, Danilo and the Alegría Ballet. Entertainment, practical advice and everything necessary to spend the best time. Each day Venga la Alegría features segments including: 90 Seconds, Top 6, the Knowledge Section, Yolo's Kitchen, Marco's Scissors, Fer's "Chou", among others. Rating: 5.9/24.0. The program is watched all over Mexico.
###