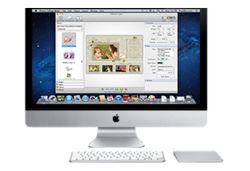 Create photo collages, scrapbooks, posters, and greeting cards on Mac OS X.
(PRWEB) February 05, 2012
PearlMountain Technology has recently announced the new release of Picture Collage Maker for Mac, which is an easy-to-use app that helps you create eye-catching photo collages on the Mac OS X. This program provides 100+ deluxe templates and offers powerful editing functions so you can create personalized photo collages, greeting cards, scrapbooks, posters and photo albums without any assistance, which gives you fresh, new ways to share your digital photos on the Mac OS X.
The program comes with 100+ creative templates to assist you in making marvelous photo collages for weddings, birthdays, anniversaries, holidays and any other special moment in life. Just choose a style you like, and then choose from the exhaustive list of clipart, frames, masks and background resources provided to garnish your collage. Making a collage is effortless and simple, whether you are a casual user or professional photographer, you can master making collages easily with this new software.
As simple as the program is, it offers powerful editing features that you can use to let your imagination run wild, extend your creativity to its limits, to add photos to collage; apply frames and masks to photos; decorate the collage with clipart; add text; set the collage size and background; adjust position, rotation and size of elements; etc. This will make your collages more attractive and unique. The multi-export tool allows you to export the collage as a Jpg, Tiff, Bmp, Png or Gif format. You can also export the collage as a PDF file, set it as wallpaper, or e-mail it to your friends or family members to share the collage.
Picture Collage Maker for Mac is a fun and creative tool to create impressive photo collages instantly with pre-designed templates and it allows you to experiment with a variety of customization techniques. Begin a photo collage today with Picture Collage Maker for Mac from Pearl Mountain Technology by transforming your special moments into a photo collage for sharing with family and friends.
About company:
Pearl Mountain Technology Co., Ltd, Inc was founded in 2006. Pearl Mountain is a software company specializing in development of powerful software. Customer satisfaction is our first priority and we aim to produce only top quality software. Our goal is to create high quality, powerful software and to provide superior service and support to our customers.
Pricing and Availability
Compatible with Mac OS X 10.6, 10.7 - Fully compatible with Mac OS X 10.7 (Lion).
Picture Collage Maker for Mac has a lite version and standard version. The lite version can be downloaded and used for free. The standard version costs $29.90, and it comes with a larger number of templates, and you can create photo collages with a larger size.
Links:
Product page: http://www.pearlmountainsoft.com/picture-collage-maker-mac/
Mac App Store page: http://itunes.apple.com/us/app/picture-collage-maker/id495631432?mt=12
Download link: http://www.pearlmountainsoft.com/download/Picture-Collage-Maker-Lite.dmg
Contact:
Lin Xiao
Company: PearlMountain Technology Co., Ltd
Title: CEO
E-mail: info(at)pearlmountainsoft(dot)com
Tel.: +8628 84192519
###