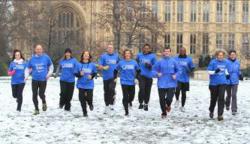 London, UK (PRWEB UK) 7 February 2012
Sally Gunnell explains:
"There is simply no better time to get healthy than right now. Fitness has always played a key part in my life and I'm thrilled to be sharing this passion to help get people motivated and taking their first running steps. Getting involved is easy and whether you're a seasoned athlete, a weekend warrior or a beginner looking to start your first run, the Royal Caribbean Runners groups are making now the time to do it."
Supported by Royal Caribbean International and Sport England, the new running groups will see individuals take part in a 12 week programme designed to improve their health and fitness in a fun and supportive environment. Not just for hardcore fitness fanatics, the new running groups are all about growing grassroots participation in the sport and getting Londoners to see the many benefits that come from staying active in day-to-day life.
Anyone joining a new Royal Caribbean Runners group will receive goodies and incentives to aid motivation. Participants will receive a dedicated 'Royal Caribbean Runners' t-shirt on sign-up and those that complete the 12 week course will also receive a waterproof running jacket. Group leaders recruiting ten people or more into the new programme will receive an iPod Shuffle and, as an extra incentive, all leaders and runners will be entered into a prize draw to win a cruise for two people on board Royal Caribbean International's Independence of the Seas in 2012, sailing directly out of Southampton.
Dominic Paul, Royal Caribbean International's vice president and managing director, Northern Europe, UK and Ireland said:
"From sports courts to surf simulators, making investments that get people active has always been a key part of Royal Caribbean International's business. Our ships are designed with fitness features in mind and because our guests have so much fun being active onboard we wanted to bring this to life - on land. After Sally enjoyed a cruise holiday with us, and raved about the fitness facilities onboard, we wanted to encourage more people to get active both onland and at sea. With Sally and Sport England's help we're taking our fitness focus one step further and hope to motivate both runners and those who have never run before to get and stay fit."
Richard Lewis, Sport England's Chair, added:
"Our aim is to build partnerships that will help us to grow and sustain participation in sport at the grassroots level. Royal Caribbean offers a huge range of sports activities on board their cruise ships and our relationship represents an extension of their commitment to encouraging active lifestyles. Royal Caribbean running groups are open to and can be enjoyed by anyone, regardless of ability and we hope the support and motivation of others will inspire more people to take up the sport, building a lasting legacy beyond this year's Games."
The Royal Caribbean Runners groups are currently available in London. For more information and to find running groups in your area please visit http://www.royalcaribbean.co.uk/runners. All Royal Caribbean Runners groups are coordinated through Run England, the official England Athletics running project aimed to get the whole nation running. This includes training of leaders through UK Athletics for the Leadership in Running Fitness qualification, a fantastic benefit facilitated through the Run England programme.
Royal Caribbean International is the world's most innovative cruise line and leads the way in the scope and range of facilities onboard its ships. Adrenalin filled onboard features include rock climbing walls, ice skating rinks, running tracks, surf simulators, scuba diving pools and much, much more. Gyms onboard Royal Caribbean International ships are some of the best in the fitness world – on one ship alone there are over 158 fitness machines. Royal Caribbean International's ships sail throughout the world, including cruises from Southampton.
Notes to Editor
Sport England
Sport England is focused on the delivery of a mass participation legacy from the 2012 Olympic and Paralympic Games.
Sport England invests National Lottery and Exchequer funding in organisations and projects that will grow and sustain participation in grassroots sport and create opportunities for people to excel at their chosen sport.
Run England
Run England is the official England Athletics recreational running project to which aims to get the whole nation running. Anyone – regardless of age, fitness level, aspiration, background, or location – can be a part of Run England and benefit from being a part of England's running community. We are here to help and encourage more people to run, and to run more often.
England Athletics works in partnership with the wider athletics community to create a vibrant, safe and progressive sport – embracing athletes of all abilities and from all communities to grow the next generation of athletics champions.
For more information please see runengland.org.
Royal Caribbean International
With ships sailing throughout the world, Royal Caribbean International offers sailings in the Mediterranean, northern Europe, throughout the Caribbean, Asia, South America, from Dubai and Alaska as well as North America. Plus, Royal Caribbean International also offers ships sailing from UK ports.
Packed full of family facilities, Royal Caribbean International's guests enjoy highlights such as meeting characters from popular Dreamwork's films, dedicated kids and teen clubs, children's waterparks and family-friendly dining options
Royal Caribbean International is a global cruise brand with 22 innovative ships, calling on more than 270 destinations in 72 countries across six continents. The line also offers unique cruise tour land packages in Alaska, Canada, Dubai, Europe, and Australia and New Zealand.
Follow Royal Caribbean on Facebook at facebook.com/royalcaribbeanuk or on Twitter, @MyRoyalUK.
Media Enquiries:
RCL Cruises Ltd: Louise James (louisejames(at)rccl(dot)com) and Surinder Manku (smanku(at)rccl(dot)com) on 01932 834 200
###