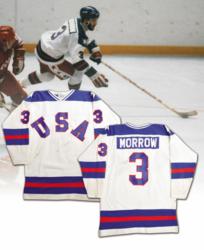 Delson, Quebec, Canada (PRWEB) February 08, 2012
The Miracle on Ice. One of history's most incredible underdog stories was fashioned 32 years ago by a hockey team composed of young Americans at the 1980 Olympic Winter Games in Lake Placid, N.Y.
Ken Morrow wore his country's red, white and blue colors with pride and passion as he and his United States teammates stunned the world by upsetting the powerhouse Soviet national team, who were considered a shoe-in to claim their fifth straight Olympic gold medal. This historic "Morrow" Team USA number 3 game-worn jersey is the one Ken was wearing during the "Miracle on Ice" game, the unforgettable 4-3 win over the U.S.S.R. on February 22, 1980 that paved the way for the Americans to claim gold two days later on home ice.
Classic Auctions is honored to offer the Ken Morrow Collection, which also features the U.S. Olympic team track suit Ken wore at the gold medal ceremony in Lake Placid as well as game-used "Miracle on Ice" equipment, including the rugged defenseman's skates. The auction will close exceptionally on Wednesday, February 22, 2012, in honor of the 32nd anniversary of this landmark event in international hockey history.
Established since 1995, Classic Auctions is the historical hockey memorabilia auction industry leader. Legends such as Maurice "Rocket" Richard, Bobby Hull, Jean Beliveau, Frank Mahovlich, Johnny Bucyk, Henri Richard, Yvan Cournoyer, Darryl Sittler, Gilbert Perreault, Guy Lafleur, Marcel Dionne and Bryan Trottier are just a few of the numerous members of the Hockey Hall of Fame who have entrusted us with the sale at auction of their personal collections.
Our record-obliterating $1.275 million sale at auction of Paul Henderson's 1972 Team Canada "The Goal" game-worn jersey demonstrates the incredibly powerful emotional and patriotic attachment these treasures illicit from historical international hockey memorabilia collectors. In addition to the amazing Henderson jersey auction record, we also currently hold the record for the top prices obtained for a Stanley Cup ring (1961 Bobby Hull - $85,000), game-used hockey stick (1971 Jean Beliveau - $17,500) and Stanley Cup trophy (1957 Jean Beliveau - $42,000).
You may access our Historical Hockey Memorabilia Auction at http://www.classicauctions.net. You may also access our special page dedicated to the Ken Morrow Collection at morrow.classicauctions.net. Bids will be accepted until February 22 at 9:00 PM (EST). We invite you to contact us by phone (450-638-7058), by fax (450-638-2643), or by email at info(at)classicauctions(dot)net for any information or media requests.
###