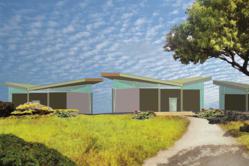 One of the fundamental goals of The Peace Project is inclusion – peace and world change can only take place when people work together – we've made this possible by creating unique ways that people can support what we're doing."
Founder, Lisa Schultz
Los Angeles, CA (PRWEB) February 09, 2012
The Peace Project has embarked on a mission to create change by mobilizing people that not only have money to spare, but also those who have little or no money to give. Through its new "Spare Change for Change" initiative and strategic alliances that make it possible to make a difference with a click of the mouse, The Peace Project is creating a new paradigm for giving.
In 2011, Peace Project Founder Lisa Schultz forever changed the lives of more than 10,000 people in Sierra Leone who lost limbs to war by providing them with crutches on World Peace Day. Schultz now has her sights set on establishing The Peace Center, a multi-use facility in Sierra Leone that will provide critical skills training, arts and cultural initiatives and a micro-loan program.
To fund this ambitious new project, Schultz wanted to make it as easy as possible for people to get involved. Recognizing that the challenging economy has compromised most people's ability to donate, she set out to find new ways for people to give. Two involve the click of a mouse and the other involves little more than donation of pennies.
The Peace Project has been nominated to receive a $50,000 grant that will enable them to bring The Peace Center to life and transform thousands more lives this year. To receive the award, the Peace Project must be the top vote-getter in a social media campaign just launched at http://www.cultivatewines.com/cause/6100/ Supporters can do their part by voting each day between now and March 31-- at which point the Peace Project will receive $50,000 for getting the most votes.
Two ways to make "Spare Change for Change" count.
Visit http://www.goodsearch.com/toolbar/the-peace-project, create an account, download the toolbar, and each time you search via Good Search (a search engine powered by Yahoo!) they'll donate a penny to The Peace Project.
Plus 2,000 participating stores including Amazon, and Apple, will donate a percentage of each online purchase when you click-thru Good Search. Now that's serious change for change!
This week, The Peace Project launched its "Spare Change for Change" project. By request at heidi(at)thepeaceproject(dot)com, The Peace Project will send a Spare Change for Change collection canister to individuals and businesses. The colorful canister adorned with a mosaic featuring visions of peace from artists worldwide comes with a placard that explains "Spare Change for Change." By placing pennies and other loose change in the canister each day, it will be full in no time ready to be donated to the Peace Project.
For more information or to make a donation, visit http://www.thepeaceproject.com
###