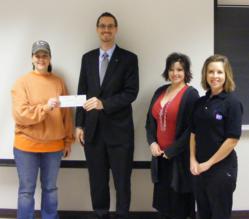 Dr Gray's wife lost her mother at the age of 6 to a rare form of cancer.
Marion, OH (PRWEB) February 09, 2012
Fixing back pain, neck pain, and headaches is not all that Dr Scot Gray likes to do. He is also very active in raising money for those that need it.
The first decision Dr Gray had to make, was who to raise money for in 2011. In 2010, he raised over $1,200 for the Marion Homeless Shelters. He wanted to do something new this year. The decision was easy for him. Dr Gray's wife lost her mother at the age of 6 to a rare form of cancer. He knows the affect that it had on his wife. "I can't imagine growing up without my mom. There are so many areas of life where she is there to lead and direct me…answer hard questions…and even provide advice at my age now" Dr Gray says. His goal was to raise money to help others to not have to suffer the same way that Dr Gray's wife has.
After deciding to raise the money for Relay For Life in 2011, Dr Scot Gray had to figure out how he would do it. The result was beneficial not only to RFL, but to local residents that suffered from neck pain, back pain, and headaches. Dr Gray gave several lectures last year on health and chiropractic in which he offered those suffering from pain, the opportunity to get their questions answered, back examined, and x-rays all for giving a small donation to RFL. Dr Gray gave away thousands of dollars of services in order to raise this money for RFL.
The Ohio Neck & Back Pain Relief Centers is on Marion-Waldo Rd in Marion, Ohio where, Dr Scot helps people not only get out of pain, but help other great causes in the area. He will be raising money for the Make a Wish Foundation this year, to help terminally ill children. His goal is to raise $7,500 in 2012. He will do this the same way as 2011. So, if you have neck pain, back pain, or headaches, Dr Scot Gray will donate $347 of his services (an examination, consultation, and x-rays) if you give a $20 donation to Make a Wish Foundation. (Dr Gray will donate the money after you bring in your donation at your appointment time).
Call Dr Scot Gray's office at 740-386-6580 to give your donation. You can learn more about Dr Gray at http://www.OhioBackPain.com
###