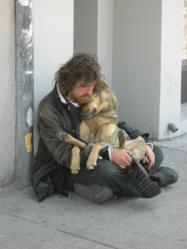 Sometimes a 99 cent burger is a meal for two
Carson City, NV (PRWEB) February 10, 2012
As homelessness continues to be an issue for Los Angeles, so does the problem of finding food and veterinary care for the pets of the homeless. Pets of the Homeless, a nonprofit volunteer organization that provides pet food to the homeless and less fortunate in local communities across the United States and Canada, is asking Los Angeles businesses to assist these pets in need.
In 2011 to help combat the increased need for pet food for veterinary care for these animals, the Mary Jo & Hank Greenberg Animal Welfare Foundation of Beverly Hills, Calif., presented a $7,500 grant to Pets of the Homeless. With the grant, Pets of the Homeless has been tasked with recruiting collection sites throughout Los Angeles where donors can drop of pet food. Area businesses are urgently needed to partner with Pets of the Homeless and become collection sites.
There is no cost to become a partner and the benefits are tremendous. Pets of the Homeless provides a collection site kit that instructs businesses how to collect and distribute the donations, and gives businesses authorization to use of their logo and photos resources. In addition, partners receive a guide to accessing free publicity in their area.
By becoming a collection site, businesses benefit by unifying staff members, gaining internet exposure and publicizing their business to current and potential customers. These businesses also make the statement that they are socially responsible members of their community. But, perhaps the largest benefit of all is the positive impact that is made in the lives of our less fortunate neighbors and their pet companions.
Veterinary clinics and hospitals are encouraged to apply to Pets of the Homeless for a grant that will help with veterinary care to the pets of homeless.
Interested businesses are urged to go to the website at petsofthehomeless.org to join, or for more information, email info(at)petsofthehomeless(dot)org.
###