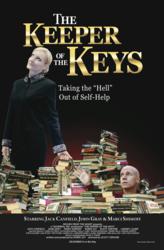 "The Keeper of the Keys is the most innovative and entertaining film of its kind ever made. Wildly original, howlingly funny, fast-paced, and utterly delightful in every way, the film is truly a gift to the world." Stephen Simon, Spiritual Cinema Circle
Chicago, IL (PRWEB) February 13, 2012
Stars of The Secret to align in Chicago with author and keynote speaker, Steve Olsher. 50% of net proceeds from the March 13, 2012 movie premiere of the groundbreaking film, The Keeper of the Keys, to benefit The Keep On Keeping On Foundation (KOKO), which assists those with severe physical disabilities.
Known as America's Reinvention Expert, Olsher co-stars in the film and is hosting the event on March 13, 2012 in conjunction with Positive Focus Productions, The Wright Institute, Preston & Emily Klik, and Bodhi Spiritual Center as a benefit for KOKO because, "they're doing amazing work and it's our honor to support their efforts," said Mr. Olsher.
The film includes cast members from The Secret, including Jack Canfield, Marci Shimoff and John Gray, with 14 additional experts. After its Las Vegas premiere in December 2011, Stephen Simon, co-founder of Spiritual Cinema Circle said that the film "is the most innovative and entertaining film of its kind ever made. Wildly original, howlingly funny, fast-paced, and utterly delightful in every way, the film is truly a gift to the world."
The March 13 premiere will feature local and national speakers including Tim Wambach and Mike Berkson of the Keep On Keeping On Foundation; Dr. Bob Wright of The Wright Institute; Energy Gong Bath from Preston Klik; and a Q&A and meet and greet with stars of the film including Steve Olsher, Derek Mills, Hueina Su, Ken Wallace, Laura Vobornik, Lisa Ryan, Carolyn Finch and Kathleen Haden.
For more information about the film, visit http://www.SteveOlsher.com. General admission and VIP tickets for the March 13 premiere held at the Highland Park Theater in Highland Park, IL are still available http://www.eventbee.com/v/steveolsher/event?eid=872079383.
Direct questions regarding the premiere to Rachel Wallace at (815) 319-1410 or Rawalla01@Gmail.com.
Steve Olsher is America's Reinvention Expert. A successful entrepreneur who's applied his business acumen and communication skills to a wide range of endeavors, he is the co-star of the film, The Keeper of the Keys; Founder of the Reinvention Workshop; Host of Reinvention Radio; Author of Internet Prophets: The World's Leading Experts Reveal How to Profit Online and USA Book News' Self-Help Book of The Year Journey To You: A Step-by-Step Guide to Becoming Who You Were Born to Be; and an in-demand media guest who has appeared on ABC TV, FOX TV, and more than 200 radio shows including nationally syndicated shows hosted by Lou Dobbs, Jim Bohannon, and Mancow Muller.
###