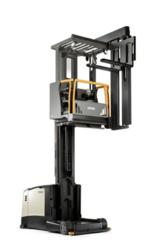 The Crown TSP Series, like the Crown RM Series narrow aisle reach truck, is changing the way managers think about the design and operation of their high-density warehouses and distribution centers.
New Bremen, OH (PRWEB) February 14, 2012
Crown Equipment Corporation, one of the world's leading forklift manufacturers, today introduced the Crown TSP 7000 and TSP 6500 Series Turret Trucks featuring the company's innovative MonoLift™ mast. The lift trucks establish new standards in warehouse throughput by offering faster lift speeds, more capacities, higher elevations, and greater operator control and comfort.
One of the most direct ways to gain throughput in very narrow aisle warehouses is to increase speeds. By providing faster lift, travel, pivot and traverse speeds, the Crown TSP Series helps operators complete more cycles within a defined time period.
Users of the Crown TSP Series also will benefit from greater flexibility throughout their warehouse by being able to place most loads at any height and/or at any open slot, all while traveling in a tight aisle with less than six inches of clearance. Industry research has shown that it is less expensive to gain pallet positions by going up rather than expanding the warehouse footprint.
The rigid design of the MonoLift mast is rooted in a boxed-in cross section construction that significantly minimizes twisting and swaying, providing greater stability and higher heights.
Crown TSP 6500/7000 by the Numbers
These turret trucks feature a main lift speed of 120 feet per minute, which is a 41 percent gain compared to conventional trucks.
They also deliver a 25 percent advantage in travel speed, and can complete a full traverse in only five seconds and pivot a full 180 degrees in six seconds.
In many applications, going from eight levels to 11 levels with the Crown TSP Series equals nearly 31 percent additional storage capacity. This translates to one-third more usable warehouse space.
The Crown TSP 7000 turret truck can reach a total of 675 inches, or six stories, and deliver most loads to full height. The Crown TSP 6500 can reach a total of 531 inches.
The Crown TSP Series utilizes some of the largest batteries available to provide up to 50 percent more power for truck performance and battery life. The Crown TSP 6500 utilizes 48V batteries, while the Crown TSP 7000 utilizes 80V and 72V batteries.
The Crown TSP Series features regenerative braking and lowering systems that capture lost energy and return it to the battery. This regenerative technology, combined with the option to use a larger battery, position the turret truck for energy savings and run time improvements of 25 percent or more depending on the application.
Operator-Centric Design
The Crown turret truck exhibits an operator-centric design that has resulted in one of the industry's most accommodating operator compartments. Operators benefit from a higher level of flexibility, comfort and control.
The truck's fully adjustable MoveControl™ Seat orients the operator to efficiently handle the load at hand. Integrated, intuitive controls built into the armrests allow pinpoint control and the ability to blend multiple functions simultaneously.
The operator compartment can be affixed with a cold storage cabin that allows operators to remain productive in environments where temperatures can reach as low as minus 40F.
Quotes Attributable to Matt Ranly, senior marketing product manager, Crown Equipment
"In today's ultra-competitive environment, our customers are seeking new solutions to improving productivity and maximizing their cube. The Crown TSP Series raises and travels faster, and lifts more weight at higher heights than other turret trucks currently on the market."
"The Crown TSP Series, like the Crown RM Series narrow aisle reach truck, is changing the way managers think about the design and operation of their high-density warehouses and distribution centers."
Related Links
Crown TSP Series Images
Crown TSP 6500 page on crown.com
Crown TSP 7000 page on crown.com
About Crown Equipment Corporation
Crown is one of the world's largest lift truck manufacturers. Crown's award-winning line of lift trucks maintains a reputation for exceptional product design, engineering and manufacturing. From the smallest hand pallet truck to the highest lifting turret truck, Crown seeks to provide users with safe, efficient and ergonomic lift trucks that lower total cost of ownership and maximize uptime. Headquartered in New Bremen, Ohio, Crown manufactures lift trucks that are sold throughout the world. For more information, visit http://www.crown.com.
Media Contacts
Dave Helmstetter
Crown Equipment Corporation
(419) 629-2311
dave(dot)helmstetter(at)crown.com
Aaron Brown
Fahlgren Mortine
(216) 298-4677
aaron(dot)brown(at)fahlgren.com
Suggested Tags
forklift, forklifts, lift truck, turret truck, industrial forklift, material handling, warehouse, cold storage, fuel efficiency, narrow aisle, Crown Equipment
# # #