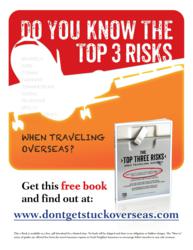 "In the case sicknesses
like diarrhea, 30-70% of all
travelers will get it in some form."
Phoenix, AZ (PRWEB) February 14, 2012
"Our goal is always to protect the traveler. One way we do this is by providing travel insurance, but if we can also use our experiences overseas to help keep people from getting sick or injured, then we are happy to do that as well," says Mark Sequeira, author of the book.
"The Top Three Risks When Traveling Overseas has as its main goal how to help travelers avoid the most common dangers to their health, rather than attempting to address every possible scenario or health risk. Too often we get so worried about airline safety or terrorism that we are completely unprepared for those everyday risks which are hundreds of times more likely to happen to us. As everyone knows, when you have only a few weeks vacation overseas, being sick for three or four days can ruin a great trip."
So what are the "Top Risks" to travelers?
1) Getting sick, especially Travelers Diarrhea (TD) or Giardia
2) Getting hit by a car either as a pedestrian or in a vehicle accident
3) Doing something stupid thereby putting health/safety at risk
The book is only 20 pages long.
Considering its title, it is just the right length.
Each section has a quick summary of a particular risk. (In the case of diarrhea, a staggering 30-70% of travelers will get it in some form.) Each section is then followed by suggestions and strategies to avoid falling prey to that risk.
To schedule interviews, media requests and publicity/artwork, please go to http://www.dontgetstuckoverseas.com/top-three-risks-media-and-publicity.html
Mark Sequeira, Marketing and Creative Director at Good Neighbor Insurance and a frequent traveler states, "The places our staff have been and the stories they have to tell,…well I tried to include some humor, some of my own experiences. Ultimately I figure there is somebody out there somewhere, that might actually learn from my mistakes–but honestly–I doubt it. Travelers are pretty independent. They like to think they know better. Even when they do something stupid, they turn around and write a book, and act as if they were doing research.
"The big controversy in the book, that'll really fire up message boards, is, 'Do bananas cause diarrhea or help stop you up?' That's the elephant in the room. Or in this case, the book."
The book is currently being offered free at http://www.DontGetStuckOverseas.com as the first in a series of "How-to" guides by the staff at Good Neighbor Insurance.
The GNInsurance website states, "Good Neighbor Insurance is proud to serve those who spend their time and lives seeking to understand, build up, serve and support peoples and communities worldwide….Like the "Good Neighbor" who helped a traveler beaten, robbed and left on the side of the road, we get involved, taking care of travelers, and making sure their health care is covered. That is our passion and goal. To protect travelers wherever their journey takes them. And if we can use our experience to keep them from getting ripped-off–keep them from getting hurt–then we're done our job."
About Good Neighbor Insurance
Good Neighbor Insurance, one of the larger insurance brokerages for international workers and non-profit groups, actually began because Jeff Gulleson (an overseas worker of 30 years) saw the need to protect others he knew from devastating medical bills and the risks involved in not having good medical care.
By creating a company dedicated to offering only the best insurance plans by A-rated companies, Good Neighbor Insurance offers a diverse group of plans at affordable rates to fit your exact needs and travel plans.
GNI's website has much more information. It also has a guide with medical advice for overseas travelers, written by Jon Askew, MD.
###