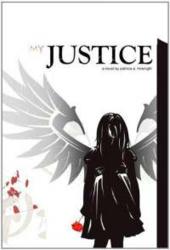 'My Justice' is an inspirational story that I could not put down . . . Best-selling author Peter Thomas Senese
(PRWEB) February 10, 2012
Patricia McKnight is pleased to announce the publication of "My Justice, the author's deeply inspired novel about the horrors of abuse and domestic violence, and the triumphant restoration of liberty and freedom.
"My Justice" is a true and graphic look into the very brutal world of Child Abuse and Domestic Violence. Through this brilliant new author's story readers will feel the power of a little girl who is left to rot in the almost daily sadistic abuse from her stepfather, while all of her most basics needs are abandoned by the mother who should be there to protect her. McKnight takes the reader onto a journey which causes the reader to feel the extreme desperate cries of a child, whom her entire community ignored.
Inside this amazing novel readers are taken into the world of secrecy, shame and trauma. Trecia Ann, the courageous child of this novel, will guide society through the path of learning about the "trained" acceptance and expectation of cruelty as it follows her through life; destroying everything good in her world. As she conquers the many different demons that try to hold her down and break the true spirit within her, it is then that readers will feel the power and courage she has to gain back the happiness that was once stripped away from her.
This new amazing novel, "My Justice," carries with it a very powerful awakening to our society. The strength of a survivor to take away the coal stained hand that has held her captive in the silence of abuse for over thirty years, has now come to life as she stands proudly before us and shares her sincere inspirations to always keep moving forward.
Best-selling author and child advocate Peter Thomas Senese, a director of the I CARE Foundation commented, "'My Justice' deserves to be described as gripping, empowering, compelling, and a read that you do not want to put down. Equally, there are, on occasions, a very different way of writing a review of an authors work, and for me, this is one of those times. So […] "Ms. McKnight, your courage to share this story, your courage to stand up Unbowed and to live in Uhuru exemplifies what is right in this world. In reading 'My Justice' I know my world became closer and, in that, a better place. 'My Justice' is a book that I will recommend to others – not just those entrapped in abuse, but as the lessons shared cross many boundaries, I will share it with those who have forgotten to trust and believe in themselves. Thank you for writing 'My Justice' – you have written a treasure that will make this world a better place."
Renown New York attorney Joel Walter, who has a long and historic history of assisting victims of abuse, added, "There are occasions when a book is written that shakes the very foundation you stand on. In 'My Justice,' Patricia McKnight has written an excellent, inspiring story of the human spirit. It serves as a reminder of many things. First, the importance for those who fall victim to abuse to stand strong and unashamed in the wake of their ordeal, and to find the courage to liberate themselves from those that chain their body, their mind, and their spirit. It too, is a reminder for each of us in society to not turn a blind eye to abuse, and to say 'abuse will not be tolerated, 'My Justice' is an incredible story of courage and freedom in the wake of those who try to withhold these essential liberties. Clearly it took Ms. McKnight a great deal of courage to break her own personal chains, and to share this remarkable story. This story will impact many who Ms. McKnight knows, and many, many more she never will meet, but who's lives she will make better. I highly recommend this story as much as I urge others victimized by abuse to emulate Ms. McKnight's courage."
Child advocate Frank Mattoni added, "'My Justice' was an incredible read that I highly recommend to others for it is a story of courage - a lighthouse in the darkest of storms, a story of the walls of abuse and courage's ability to find happiness. This is an incredible story written by a clearly remarkable person."
Patricia McKnight commented, "There are millions of survivors who struggle through the aftermath of abuse and it is important to recognize that each of their stories carries with it the desire to be validated. As a society it is our responsibility to honor the spirit they show each day as they walk bravely out of their unbelievable sadness and nightmares."
To purchase "My Justice" please visit Amazon, Barnes & Noble, or Author House.
###