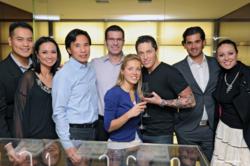 New York, NY (PRWEB) February 13, 2012
De Beers Diamond Jewellers, the ultimate destination for engagement rings and diamond jewellery, partners with Colin Cowie Weddings for the annual Valentine's Day Weddings Event, held at the iconic landmark on the world's most romantic day of the year. Four lucky couples will exchange De Beers wedding bands and say "I do" when they receive their own private, personalized, lavish wedding ceremonies created by celebrity event planner Colin Cowie at the Empire State Building on Valentine's Day, the only time when couples are able to marry at the building.
De Beers Diamond Jewellers hosted these four lucky couples at the De Beers Fifth Avenue Boutique on Friday, February 10. The wedding bands were unveiled to the couples during this intimate champagne cocktail.
Couples from across the country submitted videos describing their love stories and why they should be chosen to marry or renew their vows at ESB. After 16 semi-finalists were selected by a panel of experts, the public voted for their favorite couples. The winning couples who will share the most memorable day of their lives with their family, friends and the world at the iconic landmark are:

Stephanie Figarelle and Lela McArthur (Anchorage, AK) This couple first met in Anatomy and Physiology class and have been a team ever since. Now, the first-time visitors to NYC look forward to celebrating their love in the most recent state to pass marriage equality legislation.
Phil Fung and Shawn Klein (New York, NY) The self-described "best friends" have been committed for over 18 years and will be the first same-sex couple from New York State to marry at ESB. On the 14th they will be surrounded by their friends and loving families, with some hailing from Sean's home state of North Dakota!
Angela Vega and Lubin Masibay (San Francisco, CA) After many movie nights spent watching Sleepless in Seattle, these two fun-loving nurses are thrilled to be getting married in the building made famous in the romantic film.
Paula Cubero and Enrique Catter (Greenwich, CT) The couple, originally from Mexico and Peru respectively, met in NYC and planned a wedding in Mexico which was canceled due to a swine flu scare. Now expecting their first child, they are thrilled to wed in front of family and friends in the city where they fell in love at first sight.
For further information and exclusive images please contact:
Selda Bensusan
T: +1 (212) 751 2265
sbensusan(at)debeers(dot)com
http://www.debeers.com
THE DE BEERS DIFFERENCE
De Beers Diamond Jewellers is the ultimate destination for diamond jewellery. With over 120 years of diamond experience to draw on, De Beers Diamond Jewellers go well beyond the '4C's' of cut, clarity, colour and carat weight to capture unmatched Fire, Life, and Brilliance, providing the most beautiful diamonds in the world set in magnificent designs. The creation of timelessly elegant diamond jewellery – from selecting the world's finest diamonds to impeccable craftsmanship and sophisticated designs – is the De Beers difference, an absolute expression of the Art of Diamond Jewellery.
De Beers is proud to be the only brand to demonstrate the beauty of its diamonds, using the De Beers Iris. This proprietary technology, found in each De Beers store provides clients with an objective way to see the beauty of their diamond through the eyes of an expert.
THE DE BEERS GUARANTEE
Each piece of De Beers jewellery is certified with a De Beers passport and each polished diamond above 0.20 carats is microscopically branded with the De Beers Marque. The De Beers Passport documents the specifications of your diamond jewellery and is your guarantee that every single De Beers diamond is natural, untreated, conflict-free and responsibly sourced and crafted.
The De Beers Marque, using technology patented by the De Beers Group, is invisible to the naked eye and ensures that each diamond is individually catalogued in the De Beers diamond registry, confirming its identity as a De Beers official diamond, to provide clients with a total peace of mind.
DE BEERS DIAMOND JEWELLERS
De Beers Diamond Jewellers was established in 2001 as an independently managed and operated company by LVMH Moët Hennessy Louis Vuitton, the world's leading luxury products group, and
De Beers SA, the world's premier diamond mining and marketing company.
A DIAMOND IS FOREVER
A DIAMOND IS FOREVER * is a registered trademark of the De Beers Group
###