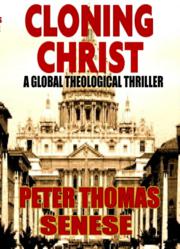 I am pleased to know that my readers and I, together, are making a difference for children targeted for abduction . . . Peter Thomas Senese
Los Angeles (PRWEB) February 11, 2012
Best-selling author Peter Thomas Senese is writing with a deep purpose: royalties generated from his critically talked about novels including CLONING CHRIST, THE DEN OF THE ASSASSIN and CHASING THE CYCLONE have and will continue to be donated to the I CARE Foundation, a not-for-profit charitable organization the writer is a director of that was created to help prevent international child abduction. Mr. Senese's novels are exclusively available on Amazon in E-book CHASING THE CYCLONE will be released in hardcover on March 9th, 2012.
CLONING CHRIST, Peter Thomas Senese's theological thriller that asks the question, "What would you do if you held the potential True Cross of Jesus in your hands, and it contained blood and hair strains on it? has had readers from around the world talking about the endless possibilities Senese brings out in his novel that pushes the question of where and how science and faith can co-exist in today's world.
The gut-wrenching, inspirational theological thriller "Cloning Christ" jettisons readers to the spiritual and physical battlefront of good vs. evil in an electrifying, bone-chilling story of faith that evolves around the global manhunt for Dr. Max Train, a once-devout, now faithless genomic scientist who may be in possession of the True Cross of Jesus of Nazareth. "Cloning Christ" will cause heart-racing readers to contemplate the challenges between science and faith while contemplating physical and spiritual issues we all face today in our pursuit to enrich the human condition and experience.
Mr. Senese commented, "Cloning Christ is an absolute theological thriller that takes the reader directly to the question, 'How would you clone Jesus of Nazareth - The Christ'? In my interpretation of that question, my answer is to follow His teachings - and that is to act best I can in kindness towards others while also being mindful not to be taken adavantage of in such acts."
Amazon Hall Of Fame book critic Harriett Klausner commented, "Fans will relish this thriller. The tale is loaded with action yet uses the characters as symbols of mankind similar to a medieval passion play like Everyman. The cast represents the faithful, the disbelievers, the dividers (torn between science and religion) or the selfish. "Cloning Christ" brings the debate of religion vs. science to the forefront in an exciting manner that focuses on the sacredness of life."
Three international thriller E-books by best-selling author, filmmaker, and child advocate Peter Thomas Senese have been the primary financial resource of the I CARE Foundation. Fortunately, top book critics are raving about the writer's geopolitical must read, inspirational thrillers. Along with CLONING CHRIST, Peter Thomas Senese's other geopolitical novels include CHASING THE CYCLONE and THE DEN OF THE ASSASSIN. All three titles are available in E-book. CHASING THE CYCLONE will be released in hardcover this March, while both CLONING CHRIST and THE DEN OF THE ASSASSIN are presently available in hardcover.
Peter Thomas Senese is a child abduction prevention advocate actively engaged in trying to stop international child abduction and human trafficking. He is a director of the I CARE Foundation. 100% of Peter Thomas Senese's royalties earned from the E-book releases of Chasing The Cyclone, The Den of the Assassin, and Cloning Christ will be donated to the I CARE Foundation. He added, "The I CARE Foundation is actively trying to reunite other children who have been internationally abducted with their families. I think my readers have a deep sense of satisfaction knowing that when they purchase one of my novels, they are making a measurable difference in the life of a defenseless child - and that is pretty cool."
Mr. Senese commented, "I am very pleased to continue my financial commitment toward the I CARE Foundation and to helping parents and children targeted for the crime of international parental child abduction. IPCA is a growing problem that could victimize well over 100,000 American children alone over the next decade. The I CARE Foundation is trying to do something about it - and I support their efforts completely."
Peter Thomas Senese commented on his work and his continued support of the I CARE Foundation when he said, "Due to circumstances that previously occurred in my life, I have become an advocate of international child abduction prevention. I am extremely pleased to direct all my royalties' earnings to the foundation, as it continues its herculean effort to build the "Hague Convention Attorney Network" so that targeted children of abduction will have resources available to come to their aid."
Peter Thomas Senese is a storyteller focusing on messages in all formats that bespeak global connectivity. He is actively involved in supporting issues that impact the lives of children, including demonstrative support to keep our nation's public libraries properly funded and open seven days a week; and, actively engaged in numerous and extensive activities surrounding international child abduction prevention; and, actively advocating for new legislation that will protect children and others from malicious online impersonation.
Please visit the official website of Peter Thomas Senese to read more about Peter's writing and advocacy work.
###