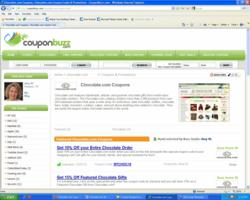 They bring a marvelous inventory of gourmet chocolates to consumers, without charging inflated prices.
Houston, TX (PRWEB) February 12, 2012
Valentine's Day is just around the corner, and procrastinators everywhere are starting to feel a bit of urgency about coming up with a Valentine's Day gift for their significant other. CouponBuzz.com is now featuring all special offers and Chocolate.com coupons in one convenient webpage, dedicated to great deals like 10% off all purchases site-wide. This new webpage has launched just in the nick of time to help late-shoppers come up with a gift that is beautiful, delicious and budget-friendly. For example, Chocolate.com offers a wide variety of gourmet chocolate gift boxes under $30.
Chocolate.com is dedicated to the idea that not all chocolates are created equal. Rich, creamy chocolate with no bitter aftertaste and the perfect mix of sweetness and cocoa flavor can be challenging to find. In fact, it is usually only found in the small, individually owned shops of the world's best chocolatiers. However, Chocolate.com has formed a network of these vendors, purchasing in bulk for re-sale on their website. Making it possible for chocolate lovers everywhere to have access to the very best.
"One of the reasons we enjoy doing business with Chocolate.com is that they bring a marvelous inventory of gourmet chocolates to consumers, without charging inflated prices," said Justin Bowen one of the management team at CouponBuzz.com. "They are very aware that price is a driving factor for today's consumer. So they offer a wide variety of pricing options, as well as coupons like the 10% offer we are currently featuring in our Chocolate.com coupons section."
When talking chocolates, usually a good rule of thumb is that you get what you pay for. However, this does not hold true for Chocolate.com, especially if you are shopping the sales and Chocolate.com coupons featured on the new site recently launched by CouponBuzz.com. With individuals becoming increasingly price-conscious in these straightened times, one of the biggest advantages Chocolate.com offers their customers is the opportunity to purchase unique, gourmet chocolates at uniquely low prices. Prominently featured on the homepage at Chocolate.com are links which allow online shoppers to shop by price for gifts under $30, $60 and $90 USD.
For shoppers where timeliness and urgency are more important than cost, the offerings at Chocolate.com can also be searched by season or event. For example, with one click a late-shopper anxious to get a Valentine's Day gift in time for the holiday can view every Valentine's Day specific chocolate gift available on the website. Best of all, every one of these gifts is eligible for the 10% off coupon located at http://couponbuzz.com/chocolate.com-coupons.html, CouponBuzz.com's new section dedicated to Chocolate.com coupons.
###