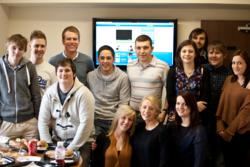 In one portal, slimmer's can benefit from a personalised diet program, fitness program, tracker, coach and motivator - all rolled into one – plus can freely chat to other members from anywhere in the world
Nottingham, England (PRWEB) February 14, 2012
Slimming.com has been helping slimmers for years to overcome current dietary trends and lose weight with the support of clinically tested slimming products, so the introduction of Slimming+ was a natural step in their commitment to combating the growing obesity problem.
Recognising that successful weight loss cannot be dependent on slimming aids alone; Slimming+ provides slimmers with the platform to lose weight, tone up and get fit whilst taking into consideration their personal needs and requirements.
"The most successful diets come from surrounding yourself with a strong support network and Slimming+ can offer this kind of support. In one portal, slimmer's can benefit from a personalised diet program, fitness program, tracker, coach and motivator - all rolled into one – plus can freely chat to other members from anywhere in the world." comments Managing Director Rob Wass.
And given the initial results of their pre-launch (pre-registration over 2,500) Slimming+ has the potential to be up there with some of the biggest players in the diet and fitness industry.
Originally brought for $185,000, Slimming.com is a valuable domain name within this expansive industry as it is short and targeted. Yet thanks to the introduction of Slimming+, the company now has high hopes that it can now reach its full potential.
Offering what few other weight loss sites have managed to achieve: personalised diet and recipe suggestions; nutritional information; step by step fitness programs and exercises; an online community and food diary. Slimming+ will help pave the way for slimmers to safely manage their weight loss and overcome common weight loss barriers without having to resort to dangerous dietary habits.
As Slimming+ member Joanne Clark quickly found when she took part in the trial period:
"I've always found dieting to be so time consuming. Checking food labels, going to the gym, searching for low fat food recipes… I just never had the time to do it properly, but this time I am feeling pretty confident. Slimming+ has taken out all the hassle. If I want to exercise I can just pop on the computer and watch an exercise video. If I fancy eating something different, I can look at their recipe list and quickly compare their nutritional values. With Slimming+ I know exactly where I am with my diet and for once in my life I feel in control." – Joanne Clarke, 31, Legal Secretary.
And this is great news for slimmers whose hectic work and social schedules leave them with little time to eat properly.
By combining Slimming.com with this unique online fitness community, slimmers will easily be able to achieve their goals and be a part of a real slimming group.
"Slimming groups such as Weight Watchers and Slimming World are successful because they allow slimmers to come together, share their experiences and encourage each other to keep striving forward. Slimming+ encourages this on a much larger scale, by allowing slimmers to communicate with members across Facebook and twitter so no matter where they are, they will never be alone." – Rob Wass, Managing Director
And the features available on Slimming+ are certainly incentive enough to provide slimmers with the support system they need to lose weight. Offering their first 1,000 members a lifetime's free subscription, this is sure to encourage slimmer's to experiment with this platform and begin their path to a healthier lifestyle.
For more information on Slimming+ visit http://plus.slimming.com
###