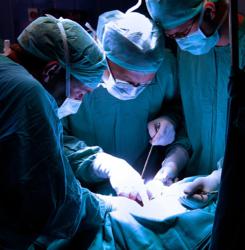 Surgery is the number one cause of adhesions. An estimated 93% of patients who undergo major abdominal or pelvic surgery will develop adhesions, yet most people have never heard of adhesions
(PRWEB) February 27, 2012
In 2009 the Millennium Research Group predicted that the market for adhesion barrier products would grow by 25 percent by 2013. But as that year approaches, cost-cutting trends in U.S. hospitals are restricting the use of adhesion barriers, according to the November 28, 2011 edition of KQED's California Report. Author Karen Steward cautions that standardizing surgeries and eliminating the use of adhesion barriers based on limited clinical data may prevent high-risk patients from having access to these products.
Steward, whose daughter Melissa was treated with the Covidien product SprayGel (now SprayShield) during surgery to remove adhesions in Germany, believes these cost-cutting trends are a step backward. As an activist, Steward works to focus public attention on Adhesion Related Disorder, or ARD, an illness that remains largely hushed in the medical world. Her recent efforts have focused on improving the surgical consent process and on increasing the public's awareness of the need for doctors to communicate with their patients about the potential complications of adhesions. Though hospital admissions for adhesion-related complications are said to rival those of appendicitis and heart bypass operations, statistics show the average ARD sufferer will spend seven to ten years -- going from one doctor to the next -- in search of a proper diagnosis for troubling pain and other symptoms. The fact that surgeons are being discouraged from using products that could prevent this suffering is a matter of great public concern, Steward believes.
Steward also works to focus public attention on the necessity for an adhesions barrier during an adhesiolysis procedure and more specifically to the benefits of SprayShield, a sprayable hydrogel that reduces the risk of post-surgical adhesions by forming a barrier between organ surfaces. Post-surgically, the gel continues to keep scar tissue from forming as the internal tissues heal. After several days, the barrier breaks down and is excreted by the kidneys through urine, requiring no further intervention to remove the barrier.
Steward points to SprayShield as one of the interventions that made her daughter's surgery a success. Manufactured by Coviden, a leading provider of health care products, SprayShield is used in Europe but has not been approved for use by the U.S. Food and Drug Administration. In a 2009 pre-clinical evaluation published in Surgical Technology International, the SprayShield Adhesion Barrier System showed a statistically significant reduction in adhesion formation among test subjects. Dr. Daniel Kruschinski, the German surgeon who performed Melissa's surgery, used a gasless lift to maximize the benefits of SprayShield. In standard surgeries, carbon dioxide gas is used to separate the organs and create a viewing field for the surgeon; however, CO2 gas can reduce the effectiveness of the product. The gasless lift creates the necessary viewing field without the harmful effects of CO2 and allows the SprayShield barrier to retain its consistency. The gasless procedure also enables the SprayShield barrier to remain intact. Without the innovations of the SprayShield system and the gasless lift, Steward believes that her daughter's surgery might not have been successful.
"As it is, insurance companies are reluctant to cover the use of adhesion barriers, even products that have been approved by the FDA," says Steward. "If hospitals take these products out of surgeons' hands, it's going to be even more difficult to get reimbursement for these products, and patients will continue to pay for adhesion barriers out of pocket. To complicate matters further, many patients are not made aware of the potentially serious complications of adhesions or educated about the benefits of adhesion barriers."
According to the KQED report, the Banner Health system made the decision to restrict the use of adhesion barriers in C-sections based on clinical evidence showing that the use of these products did not improve patient outcomes. However, a recent press release from the University of Southern California's Center for Health Reporting notes that such cost-cutting measures limit doctors' treatment options and interfere with their professional autonomy.
"Taking a cookie-cutter approach to surgery may cut hospital costs, but it's not the best approach for patients," Steward says. "Every patient's clinical profile is different, and surgeons should have access to the products they need to protect their patients' health." Steward advocates for patient education on the benefits of adhesion barriers and continued clinical research on the efficacy of SprayShield and other barrier products.
"Without ongoing research and support from hospital systems, patients won't have access to adhesion barrier products, and insurance companies won't pay for them," Steward says. "In the KQED report, Banner Health claims that it saved the system $1 million in 2011 by blocking the use of a barrier product in women having Cesarean sections. But it may take months or even years for a surgical patient to develop the symptoms of ARD, and some may not be aware of the presence of internal scar tissue until they have complications with a second or third pregnancy. If corporate hospital systems are making decisions about adhesion barrier products based on their budgets rather than the patients' best interests, more patients will be at risk of developing Adhesion Related Disorder."
Karen Steward is the author of the book Doctors: Bound By Secrecy? Victims: Bound By Pain! Steward's daughter, Melissa, suddenly became ill at age thirteen. Originally diagnosed with Crohn's disease and sent home to live with the excruciating abdominal "attacks," Steward became convinced her daughter had been misdiagnosed. Uncovering the truth behind the illness, however, was a nightmare. Fourteen years passed before Melissa was properly diagnosed, yet a mere four-hour surgery relieved her daughter of the agonizing condition. Steward now dedicates much of her life to ARD awareness.
###