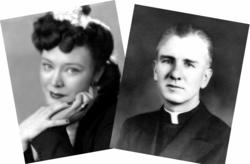 It's true that he made the vow to the church, but human, God given emotions are so strong for all of us.--J Gillease
Fallbrook, CA (PRWEB) February 14, 2012
"For the entire Valentine's Day week I'll be giving away autographed copies of my parents true love story, Everybody Calls My Father, Father. I remember the vow I made, that one day I would tell their story to the world, and hopefully make a change in the Catholic Churches' unnatural vow of celibacy, well here it is. Just go to my Facebook page to enter to win a copy," said Tim "Dr. Hope" Anders.
His book exposes to the world the hardships and heartaches that he and his mother had to endure, at the hands of the Catholic church, all because of love; yes, her secret and forbidden love with his father, a Catholic priest.
"FIVE STARS--This book is inter-twined with so much love and sadness at the same time. It is beautifully written and difficult to put down. I am an ex-catholic and against the celibacy rule and reading this story reinforces my conviction. How sad for both Hughie and Boo. It's true that he made the vow to the church, but human, God given emotions are so strong for all of us. Thank you Tim for writing this story so well that it haunts my heart. Yes, this would make a great movie and I would love to see it." --J. Gillease
To read more reviews click here.
From the vow the author made to himself comes Tim "Dr. Hope" Anders' book, Everybody Calls My Father, Father. Valentine's Day is all about love; and the author's sharing the intimate details of his parents struggle is all about love and what can happen if you love someone that the Church says you're not supposed to. The character of a tenacious young woman, Bouvette Sherwood (the author's mother), who is a successful New York Broadway producer and actress, drives the plot. In the mid 1940s Bouvette meets and falls in love with a charming alcoholic, Hughie Hewitt. He has a secret though, which he keeps from her during their intense courtship—he is a Catholic priest. For years their steamy romance and covert living arrangements are successfully hidden from the suspicious eyes of the church. After spawning two children their deception becomes increasingly difficult to conceal. Their love story unfolds into a kaleidoscope of intrigue, suspense, betrayal, and romance.
"Come to my Tim "Dr. Hope" Anders' Facebook Fan Page for your chance to win a free copy of Everybody Calls My Father, Father and experience first hand the strength, optimism and hope of an extraordinary woman," said Dr. Hope.
About Tim "Dr. Hope" Anders: Dr. Hope is an award-winning children's book author who also writes books for grownups. For more information about him go to http://www.DrHope.com.
###