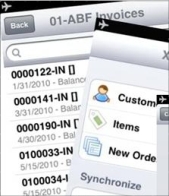 With iSales 100 Sage MAS 90 / 200 continues to produce - even in Airplane Mode.
Chicago, Illinois (PRWEB) February 15, 2012
Chicago-based Sage developer and reseller, xkzero, has created a new iPhone and iPad Sales App exclusively for Sage 100 ERP (MAS 90 / 200). The app is now available through the Apple App Store and will use Windows Web Services to integrate critical customer, sales and inventory data.
According to xkzero founding partner, Paul Ziliak, the solution is unique in the Sage marketplace. "What we are offering is the kind of app to allow a sales person or executive to conduct business wherever they are and whenever they are ready", said Ziliak. iSales 100, as xkzero is planning to call the app, uses the popular MAS 90 / 200 software to filter the customers by user, then delivers information such as warehouse quantities available, open sales order detail, open invoices and customer ship to information. Ziliak explained that the first release contains what xkzero believes to be the most important information to a salesperson or executive. "By no means are we including all of the Sales Order information, but what the salesperson will have is their customer and item pricing at the touch of their fingers, and we think that is pretty unique." iSales 100 is a native iPad app, not browser based, thus the user will be able to utilize the app whether connected to the internet or not.
xkzero is completing the Apple certification for App Store distribution and has begun demonstrating the new app through Webinars to end users and the Sage channel. "When you walk into a meeting with an iPad these days people notice. We think that having this app connected to MAS 90 / 200 will provide an edge for the salespeople by conveying that their company is modern in their approach and execution", continued Ziliak. "We're confident that the Sage marketplace will enjoy the benefits of the app - and be excited by new development we have planned."
###