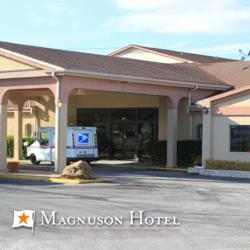 Stephenville, TX (PRWEB UK) 14 February 2012
Magnuson Hotels, the world's largest independent hotel group, announced today the complete rebranding of the Magnuson Hotel Stephenville, Texas. Formerly a Days Inn Stephenville, this 65-room hotel seeks to upgrade its local, regional and national market position through its affiliation with the Magnuson Hotels brand designation.
Corporate, educational, government and leisure travelers will appreciate the most congenial, competitive, and satisfactory stay. Magnuson Hotel Stephenville is located near Tarleton State University, Lone Star & 4-C Arena, Local Airport, Dinosaur Valley State Park, Creation Evidence Museum, Fossil Rim Wildlife Center and Proctor Lake. They are proud to be the Rodeo Capital of the World. Erath County is best known for its Dairy Industry.
The Magnuson Hotel Stephenville offers guests free Continental breakfast served from 6 am to 9 am, outdoor pool, free high-speed wireless Internet access, meeting facility, fax/copy service, free parking with room for large vehicles, wakeup service and other amenities.
"Guests will enjoy the variety of activities near the Magnuson Hotel Stephenville. We are proud to welcome owner Satish Kumar and his staff, and are committed to increasing their property visibility and reservations," stated Thomas Magnuson, CEO.
As a Magnuson Hotels affiliate, the Magnuson Hotel Stephenville will receive complete brand representation across North America and the UK, without the costs and requirements of franchise brand affiliation. The Magnuson Hotels brand offers owners of mid-scale service hotels and resorts the highest visibility brand positioning, to clearly communicate the value of their hotels' service and quality to mid-scale business, group and leisure travelers worldwide.
About Magnuson Hotels:
In nine years, Magnuson Hotels has become the world's largest independent hotel group, representing nearly 2,000 UK and North American hotels with assets in excess of $5.5 Billion. One of the top 5 global hotel chains, Magnuson Hotels is the #1 Hotel Company of Inc. Magazine's 5,000 fastest growing private U.S. companies. For more information visit magnusonhotels.com, Magnuson Hotels on Facebook, and Google+, or follow Magnuson Hotels on Twitter @MagnusonHotels
###