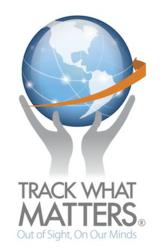 We were able to pinpoint the location of our stolen property (worth $80K) and dispatch the local authorities to make the arrest.
Flower Mound, Texas (PRWEB) February 14, 2012
Track What Matters today announced that Nationwide Relocation Services, a moving company based in Margate, Florida, used its GPS technology to track down a stolen vehicle and dispatch police to its location, resulting in an arrest and full recovery of the property.
NRS installed the GPS technology from Track What Matters on all of its new trucks and trailers over a year ago to prevent moonlighting and recover property theft. The investment paid off quickly when a former driver decided to use NRS assets to haul a shipment for another company. The stolen truck was located in Ohio, over 1300 miles from its original location.
"We noticed that the truck was not where it was supposed to be, and became suspicious," said Aldo DiSorbo, a representative from Nationwide Relocation Services. "We reported the stolen property to the officials immediately, and were able to pinpoint its location so they could dispatch local authorities. The driver was arrested, and the other company was notified to come pick up their shipment."
The truck was valued at over $80,000.
More details about the incident can be found at: http://blog.cleveland.com/metro/2012/02/gps_device_leads_police_to_sto.html
 
About Track What Matters (http://www.trackwhatmatters.com)
Track What Matters provides customized GPS tracking solutions for vehicles in the United States, Mexico, Canada, Africa, the Middle East, and portions of Asia. They support companies who need to keep track of assets, containers, trailers and more.
Track What Matters has made a conscious effort to ensure its service is very easy to use while providing comprehensive delivery of vehicle tracking information. Track What Matters, LLC is a GPS tracking company that specializes in creating customized GPS tracking solutions specific to the individual needs of their clients.
Leveraging cutting-edge GPS tracking hardware with vanguard and incredibly powerful yet user-friendly web-based software, Track What Matters, LLC has helped numerous Fortune 500 clients improve returns on investments by reducing waste and inefficiencies elsewhere. With a core philosophy of customized solutions culminated with unprecedented customer service, Track What Matters, LLC is the GPS tracking company that leading companies turn to for innovative and customized solutions and 24/7 accessibility. For more information, visit http://www.trackwhatmatters.com or call 800-293-0420.
Email twm(at)TrackWhatMatters(dot)com to receive emails that spotlight critical trends in the GPS tracking industry.
Get the inside scoop on our GPS tracking strategies - follow us on Twitter: @Trackandsave
###