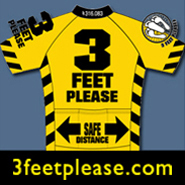 "It's time for me to pass it on to a corporation or organization that has the resources and expertise to meet what is not only a national challenge, but a global one as well."
Tallahassee, FL (PRWEB) February 16, 2012
Four years ago Tallahassee bicyclist Joe Mizereck remembers almost being hit by three motorists on one of his rides. He also remembers how angry he felt. It was that anger, that frustration, that feeling that he could have been killed that moved him to do something to make riding a bicycle safer for him and for others. That was when he decided to place the words "3 Feet Please" on the back of a jersey to help remind motorists that they need to give cyclists at least 3 feet clearance when passing from the rear.
Now, after putting the message on the backs of more than 5,000 cyclists around the world and distributing thousands of stickers for cars, Mizereck has decided it is time to pass the torch.
"Most motorists and cyclists are respectful of each other and get along very well on our roads. And they are OUR roads. However, we have a lot of work to do to address the problems caused by the irresponsible and disrespectful scofflaws on both sides. This challenge," Mizereck says, "is too great for me." Mizereck believes he has taken the campaign as far as he can. "It's time for me to pass it on to a corporation or organization that has the resources and expertise to meet what is not only a national challenge, but a global one as well."
The remaining inventory of jerseys will be sold and not replenished. It will be up to the new trademark owner to carry the torch and continue selling the jerseys and spreading the message.
If you are interested in talking with Mizereck about purchasing the trademark and associated items, contact him at 1.800.761.0907 or joe(at)3feetplease(dot)com.
If you are interested in purchasing one of the remaining "3 Feet Please" or "1 Metre Please" jerseys, please go to http://www.3FeetPlease.com and place your order. If you insert, "GIFT" in the coupon space when checking out, you will save $5.00.
BACKGROUND
Mizereck says, "There is no question in my mind that the campaign has made a difference. The cyclists wearing the jersey report back to me that more motorists are giving them more space more often. The campaign, I believe, has saved lives. And that's great news."
When Mizereck started the "3 Feet Please" campaign there were only 10 states that had adopted 3 foot clearance laws. Today there are 19 states offering cyclists this protection. In several states that have not adopted the law a few cities have taken the lead and passed their own 3 foot clearance ordinances. At this moment there are several states considering legislation and Mizereck believes it's not a question of if, but when the other states will adopt the law.
In 2009, 630 bicyclists were killed and an additional 51,000 were injured in motor vehicle crashes in the United States. In 2010, 618 bicyclists were killed. Bicycle fatalities dropped for the third year in a row in 2010, marking the fewest number of bicyclists killed in traffic accidents since the statistics were first published in 1975. Although collisions between vehicles and cyclists when being overtaken represent less than 2% of the total crashes, the fear of being hit from behind is the biggest concern expressed by both cyclists and "want-to-be" cyclists.
###