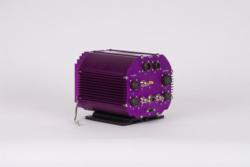 Wi-Tronix Wi-PU places invaluable information at the fingertips of CN management.
Bolingbrook, IL (PRWEB) February 16, 2012
CN leadership will continue to use Wi-Tronix's Wi-Tracker™ to maximize both locomotive asset utilization and fuel efficiency. Wi Tracker provides a full suite of tools such as: statistics on utilization, engine shut down and duty cycle, fuel monitoring, locomotive fault and exception-based alerting, geo-mapping, and more. Additionally, CN will save countless hours of invaluable time using Wi DownloadER that provides remote access to download locomotive on-board data from any locomotive, anytime, anywhere. .
CN will also benefit from automatic monitoring of locomotive digital video recorder health and operating status. Wi-Tronix, ultrasonic fuel sensors will provide CN with real time information such as fuel levels, fuel inventory, refuel events and low fuel alerts. Wi-Tronix array of mobile asset management tools, proven integration experience and customer service is being deployed to support CN's revolutionary business objectives aimed to increase fuel efficiency which is one of the key pillars to its Ecoconnexions Sustainability Program aimed at reducing CN's carbon footprint.
"Wi-Tronix Wi-PU places invaluable information at the fingertips of CN management." The Wi-PU features seamless roaming between the US and Canada using both cellular and Wi-Fi communications.
About Wi-Tronix, LLC:
Wi-Tronix, LLC, headquartered in Bolingbrook, IL, provides products and services to wirelessly monitor high-value mobile assets used in rail, marine and other commercial and industrial operations. Wi-Tronix's mission is to enable businesses to improve the operational efficiency, service reliability and safety of high-value mobile assets. For additional information visit the Wi-Tronix website at http://www.WI TRONIX.com.
About CN:
CN - Canadian National Railway Company and its operating railway subsidiaries – spans Canada and mid-America, from the Atlantic and Pacific oceans to the Gulf of Mexico, serving the ports of Vancouver, Prince Rupert, B.C., Montreal, Halifax, New Orleans, and Mobile, Ala., and the key metropolitan areas of Edmonton, Toronto, Buffalo, Chicago, Detroit, Duluth, Minn./Superior, Wis., Green Bay, Wis., Minneapolis/St. Paul, Memphis, St. Louis, and Jackson, Miss., with connections to all points in North America. For more information on CN, visit the company's website at http://www.cn.ca.
###