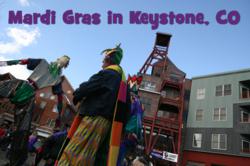 ...The most exciting apres' ski party around
Keystone, Colorado (PRWEB) February 14, 2012
Keystone, Colorado has a fun day planned to celebrate 2012 Mardi Gras, with a free concert scheduled for Fat Tuesday. Visitors can ski or ride the mountain all day and follow up with a the most exciting apres' ski party around, the River Run Rocks! concert series. The New Orleans Suspects will be headlining the show, with an opening act who is to remain a surprise for concert-goers.
The New Orleans Suspects are a group of experienced musicians who are all members of other bands, coming together to create a 'supergroup' of talented individuals. With an array of instruments like the piano and saxophone, multiple lead vocalists, and an amazing rhythm section this band is sure to blow you away with their compelling original sound.
The River Run Rocks! Concert series is presented by Bud Light and takes place multiple times throughout the year at Keystone Resort, bringing in past acts such as 10,00 Maniacs, Robert Earl Keen, Deer Tick, and Seven Mary Three. The event takes place in River Run Village at Keystone Resort and is free to attend. It is just a short walk from the slopes, making it easy to ski or ride up until just a few minutes before the show starts. The series features plenty of food vendors and beverage carts, and prime seating on the decks of Wolf Rock, 9280' TapHouse, and Luigi's, along with plenty of dancing room in front of the stage. A kids' fun zone also keeps the young ones busy while you enjoy the music. This event features a Mardi Gras theme, complete with beads and costumes, guests are encouraged to show their flare!
SummitCove.com Vacation Lodging in Keystone is offering 35% off stays from 2/21-2/24 to celebrate Fat Tuesday and Mardi Gras. Check our website for details. Don't miss this fun, free event at Keystone Resort on Tuesday, February 21st! It's the ultimate way to celebrate Fat Tuesday!
###