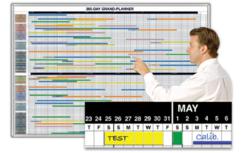 The unique color coding ability, daily timeline format and high line-item capacity help you see the big picture and communicate what needs to be done. Our customers tell us it is ideal for long range detailed planning and record keeping
Macedon, NY (PRWEB) February 16, 2012
You can think, write and talk about your grand plan, but until you put on the wall for all to see, you may be the only one "seeing" it. This new magnetic GrandPlanner whiteboard organizes the process and helps you plan, track and display up to 88 line items in detail against a 1 or 2 year daily timeline scale.
A US Army training officer says, "We are visually oriented. We used spreadsheets before but the GrandPlanner is much faster, more accurate, and easier to use. Our board is our long range planner for training." A construction project manager says, "The fine line scale lets us post a lot of details on a daily basis. With a big building project like this there are lots of things that have to come together on schedule and we control them successfully with our GrandPlanner board."
"The unique color coding ability, daily timeline format and high line-item capacity help you see the big picture and communicate what needs to be done. Our customers tell us it is ideal for long range detailed planning and record keeping," says Magnatag spokesperson Christian Krapf. "GrandPlanners with their printed 1/6" or 1/3" day spaces let you post color-coded activity with scissor-cut grid-printed write-on magnet strips, PreciseLine tapes, dry-erase pens and magnetic cardholders. Fast, flexible and easy-to-use, they come with everything needed to operate them."
GrandPlanner grid lines are heat fused printed into the magnetic porcelain-like steel white board and designed to stay like new for a lifetime of daily use. They come in 5 sizes with 365 and 720 day versions for up to 88 line items. For full details go to http://www.magnatag.com/GRANDPLANNER or call 800 624 4154 and talk to a visible systems specialist.
About Magnatag® Visible Systems: a division of W.A. Krapf, Inc., they design, manufacture and direct-market over 2,300 magnetic printed steel task-specific and all-purpose whiteboard scheduling kits including calendars, maps, custom printed whiteboards, a full line of magnets and accessories (many patented) and other information display systems for industry, hospitals, schools, business, organizations and government. Their 46th year, a family company http://www.magnatag.com.
Hi-res Images:

Contact
Doug Weeks
Magnatag Marketing Group
800 624 4154
dougw(at)magnatag(dot)com
###