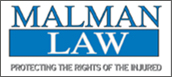 I assembled a team of lawyers and experts to prosecute the case resulting in an incredible settlement,
Chicago, Illinois (PRWEB) February 19, 2012
Malman Law announced Wednesday that the Chicago City Council approved a $1.75 million settlement with the family of a 13-year-old girl who died a decade ago after city paramedics allegedly botched her care during an asthma attack.
Paramedics in July 2002 incorrectly inserted a tube meant to help Arielle Starks breathe, said Jeffrey Levine, deputy corporation counsel.
Starks died at Advocate Trinity Hospital after an ambulance carrying her to the hospital collided with a car. Another ambulance picked up Starks and took her to the hospital.
Malman Law and a team of lawyers attempted to showcase the mistakes caused by the paramedics' negligence. They successfully proved that the incorrectly inserted tube was meant to go through the esophagus that leads to the stomach, instead of through the trachea that leads to her lungs.
Initially the Starks case, number 03 L 8587, was represented by another prominent Chicago law firm, however, after the firm dropped the case, the Starks family, facing dismissal, turned to Malman Law. It was only after intense oral arguments that Malman Law convinced the Circuit Court of Cook County Illinois to allow Ms. Starks to proceed with the case.
"After I won the initial motion to dismiss by the City of Chicago, I assembled a team of lawyers and experts to prosecute the case resulting in an incredible settlement," said Steven Malman, head of Malman Law.
If not for a series of "mistakes" made by the four paramedics who treated Starks on that fateful day, attorney Brian Murphy argued that the girl would be alive today.
Instead of proceeding to the hospital after determining that the driver of the other vehicle was not injured, the paramedics chose to follow, what Murphy called a "ridiculous general order" that states that, if a driver is in an accident involving property damage, he must remain on the scene.
As a result, Starks arrived at the hospital where she was pronounced dead 19 minutes after the accident, 25 minutes after being improperly treated and roughly 40 minutes after the initial call was placed to 911.
"In the United States, children do not die from asthma. It's just that simple. I would categorically say there is no reason why this girl's asthma should have killed her. She should have been back at school and back playing with her friends the next day," Murphy said.
Experts at the trial testified that even though the tube was incorrectly inserted, Starks could have survived if the ambulance would have driven straight to the hospital.
"Because of all that, this girl died, and she did not need to die," Murphy said.
About Malman Law
Steven Malman graduated from the University of Iowa and the School of Law at Loyola University-Chicago. He celebrated his 20th year of legal practice in November 2011. Since Malman Law first launched in 1994 (with just Malman, one secretary and one assistant), it has grown to include seven attorneys and over a dozen paralegals and administrative staff. The firm has successfully resolved over 8,000 cases, primarily in the areas of workers' compensation and personal injury, and boasts a 95-percent out-of-court settlement rate. With numerous seven-digit personal injury verdicts to its credit, Malman Law is one the most successful firms serving clients in Illinois Cook, Lake, Dupage and Will counties.
For additional information, interview and image requests contact VirtuosOnline.
# # #