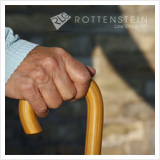 New York, NY (PRWEB) February 21, 2012
At the 2012 Annual Meeting of the American Academy of Orthopaedic Surgeons held in San Francisco from February 7 to 11, at a panel presentation entitled "Metal-on-Metal Hip Replacement: Current Status and Recommendations for Patient Management," panelist Dr. Thomas Schmalzried—long known to be one of the developers of DePuy Orthopaedics's embattled metal-on-metal ASR hip replacement system, the recipients of which the Rottenstein Law Group represents in claims against DePuy—conceded that all-metal implants should not be used.
Dr. Schmalzried, Medical Director of the Joint Replacement Institute at St. Vincent Medical Center in Los Angeles, disclosed that he has received royalties from DePuy and research funds from DePuy, Wright Medical, Corin, Piedmont Foundation, and St. Vincent Medical Center. When asked by panel moderator Dr. William Maloney how Dr. Schmalzried intended to replace cobalt and/or chromium hip replacement elements in future revision surgeries, Schmalzried replied, "I'm going to be using more ceramic with a titanium taper sleeve." When Dr. Maloney posited that "There is no indication for a metal-on-metal total hip replacement," Dr. Schmalzried agreed, as did every other member of the panel of orthopedists. A video of the panel presentation can be viewed at http://www.prolibraries.com/aaos/registration/player?id=30.
In August of 2010, DePuy, a subsidiary of Johnson & Johnson, announced a global recall of its ASR Hip Resurfacing System and ASR XL Acetabular System—both of which had been approved under the FDA's less stringent 510(k) process. 93,000 persons worldwide had an ASR device implanted before the recall, according to data published by DePuy itself. DePuy recalled its ASR devices after the National Joint Registry of England and Wales made public data showing that, within five years, about 12% of recipients of the hip resurfacing system and about 13% of recipients of the acetabular system needed corrective surgery, as reported by the New York Times. The ASR devices fail at higher-than-normal rates because the metal components grind together, eroding the implants and poisoning the surrounding tissues and blood stream with cobalt and chromium ions.
Rochelle Rottenstein, principal of the Rottenstein Law Group, says, "We implore anyone with a friend or relative who has received a hip replacement device since 2003 to reach out to that person and recommend that he or she consult a physician immediately and then speak to a qualified personal injury lawyer."
The Rottenstein Law Group maintains a DePuy Hip Replacement Recall and Lawsuit Information Center at http://www.hiprecalllaw.com. The site has features that allow for easy sharing, including links for automatic posting on Facebook and Twitter, specifically to enable visitors to spread the word about the DePuy ASR recall.
About THE ROTTENSTEIN LAW GROUP
The Rottenstein Law Group is a New York-based law firm that represents clients in mass tort actions. The firm was founded by Rochelle Rottenstein, who has more than two decades of experience as a lawyer, to represent clients hurt by defective medical devices. http://www.rotlaw.com
Contact:
The Rottenstein Law Group LLP
Rochelle Rottenstein, Esq.
1259 Veeder Drive
Hewlett NY 11557
(212) 933-9500 (office phone)
(212) 933-9980 (facsimile)
rochelle(at)rotlaw(dot)com
http://www.rotlaw.com
###