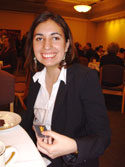 "Ultimately my education comes with a responsibility to use my talents in service to other people whose rights have been wrongly denied or ignored." - Steph Fernandes
Washington, DC (PRWEB) February 22, 2012
Learning Ally (formerly Recording for the Blind & Dyslexic), a national nonprofit organization serving 250,000 individuals with learning differences, visual impairment and reading disabilities, will honor six remarkable students on February 27 at its 52nd annual National Achievement Awards celebration in the nation's capital.
Three of these high achievers are blind or visually impaired; three have learning disabilities like dyslexia; all are recognized for scholastic excellence, exemplary leadership, and service to others; and all have thrived in education with the help of accessible educational content and assistive technology that Learning Ally provides.
The six winners will receive cash awards of $6,000 and travel with their families to Washington, DC, where they will accept their awards, meet with public officials and Members of Congress, and speak at a special Roundtable on "The Impact of Access" on Capitol Hill. This year's NAA winners include:
Ashley Brow, 22-year old blind student from Massachusetts, is the first member of her family to graduate from college. Having lost her vision in eighth grade, Brow finished her undergraduate work at Emerson College with a 3.99 grade point average, and is now in graduate school pursuing a career as a speech-language pathologist.
Gregory "Grey" Pilant, a 19-year old student from Florida, has severe dyslexia and reading-processing disability. Now a freshman at the University of Miami, Pilant is blossoming as a Pre-Med student and aiming to make an impact on the healthcare field, while also working in hospital emergency rooms as a volunteer.
Henry "Hoby" Wedler, a 24-year old from California who was born blind, completed his undergraduate work at UC Davis – double majoring in Chemistry and History and minoring in Mathematics, and achieving a 3.83 grade point average. Wedler is now pursuing his Ph.D. in Chemistry, and has established himself as a teacher, role model and mentor for younger science students.
Margaret Perry, an 18-year old from Maryland who has dyslexia and attention deficit disorder, is a freshman at Duke University studying Public Policy and Art. Perry spent last summer mentoring Baltimore city youth at SuperKids Camp in Baltimore, a nonprofit summer camp for city elementary students to improve their literacy and math skills. She plans to use her knowledge about learning differences to be an advocate for those facing struggles similar to her own.
Stephanie Fernandes, a 22-year old graduate student from Ohio, is pursuing her law degree at Ohio State University. Undeterred by total blindness resulting from a rare disorder, Leber's Congenital Amaurosis, Fernandes graduated with honors from Boston College with a 3.93 grade point average. She spent the past summer in Washington, DC immersed in an internship at the National Disability Rights Network (NDRN) and has her sights firmly set on a career in public interest law, focusing on disabilities and child advocacy.
Carson Wigley, 18-year old dyslexic student from Maryland, graduated from Worcester Preparatory School with a 97.0/100 average, and is now a freshman at Wake Forest University. She was a Maryland state winner of Letters about Literature, a national competition of the Center for the Book in the Library of Congress; and she also founded her own organization, SHINE Now, which has collected 4,000 books for children in Title I schools and homeless shelters.
About the National Achievement Awards
Each year, Learning Ally honors a total of 15 students in two categories of its National Achievement Awards. Blind or visually impaired college seniors and grad students are presented with the privately endowed Mary P. Oenslager Scholastic Achievement Awards (SAA). High school seniors with learning disabilities such as dyslexia are honored with the privately endowed Marion Huber Learning Through Listening® (LTL) Awards. Hundreds of students apply for these prestigious awards each year and are evaluated by committees of Learning Ally volunteers, board members, parents, educators, donors and staff. Each award winner has a long list of honors and accomplishments, and has graduated with a GPA above 3.0, with most near the 4.0 mark. The top three winners in each category are honored with a trip to Washington, DC with their families, and a $6,000 cash award to support their education.
About Learning Ally™
Founded in 1948 as Recording for the Blind, Learning Ally serves more than 250,000 K-12, college and graduate students, as well as veterans and lifelong learners – all of whom cannot read standard print due to blindness, visual impairment, dyslexia, or other learning disabilities. Learning Ally's collection of more than 70,000 digitally recorded textbooks and literature titles – delivered through internet download, assistive technology devices, and mainstream devices like iPhone and iPad – is the largest of its kind in the world. More than 5,000 volunteers across the U.S. help to record and process the educational materials, which students rely on to achieve academic and professional success. Learning Ally, a 501(c)3 nonprofit, is funded in part by grants from state and local education programs, and the generous contributions of individuals, foundations and corporations. For more information, visit http://www.LearningAlly.org.
###