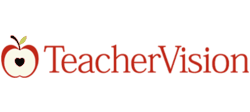 For more than a decade, TeacherVision has been focused on providing all educators – whether they are homeschooling parents or classroom teachers – with the resources they need to ensure success for their students
Boston, MA (PRWEB) February 21, 2012
TeacherVision, one of the Internet's most popular teacher sites for trusted lesson plans, printables, classroom management resources and skill-building exercises, is one of the Top 100 Educational Websites of 2012, according to the readers of Homeschool.com. Homeschool.com is the No. 1 homeschooling site on the Internet, with 2.5 million unique visitors. This honor joins a growing list of endorsements for TeacherVision, such as its recent inclusion in "Edudemic's List of 20 Must-Have Educational Resources for All Teachers."
Perfect for the homeschooler, the TeacherVision 2012 Educators' Calendar features noteworthy daily events that parents can use to spark student research or stimulate creative expression. Each event links to different activities that are relevant to the particular day, week or month, giving children the opportunity to extend learning beyond the curriculum.
TeacherVision also offers other seasonal and timely content that homeschooling parents can use to teach math, reading and science, based on topics that students love: Christmas, Halloween, Thanksgiving, Black History Month and more. The site's Theme Library covers all subjects that might be part of any homeschooling curriculum, as well as a wide number of holidays, seasons and historical events.
"For more than a decade, TeacherVision has been focused on providing all educators – whether they are homeschooling parents or classroom teachers – with the resources they need to ensure success for their students," said Jess M. Brallier, publisher, TeacherVision. "We are proud that the homeschooling community is honoring our broad mission with this recognition."
The award-winning site brings together content from a variety of educational publishers. Features such as literature guides, maps and graphic organizers provide valuable support for any homeschooling parent lacking the resources to purchase the textbooks, workbooks and supplemental materials available in many classrooms. For example, parents can turn to TeacherVision's extensive collection of Literature Teaching Guides to help their children in grades K-12 learn to appreciate literature. These guides to novels, short stories, nonfiction essays, plays and poetry include lesson plans, worksheets, plot summaries, discussion questions and extension activities.
The site's thousands of printable worksheets provide parents with assessment tools to ensure children grasp what they are learning. Other printables on TeacherVision offer parents great activities to review the topics they are teaching, plus certificates and awards to celebrate a job well done.
To receive new resources, timely content and special offers, parents can sign up for TeacherVision's free teacher newsletters, "Great Stuff for Teachers" and "Special Offers for Teachers." Homeschooling parents can also join TeacherVision's social networking community on Facebook (http://www.facebook.com/TeacherVision), Twitter (http://www.twitter.com/TeacherVision), Pinterest and Google+. On those sites, parents will discover daily inspiration through the timely content, applicable news articles and helpful tools posted for the community to enjoy.
About TeacherVision
TeacherVision is the Internet's most popular teacher site for trusted online tools, lesson plans, printables, classroom management resources and skill-building exercises that help teachers save time and make learning fun. TeacherVision.com is dedicated to supporting children's learning in school and in life.
TeacherVision is part of Pearson, the education, services and technology company. Pearson's other primary operations include the Financial Times Group and the Penguin Group.
###