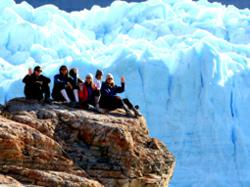 IES Abroad Ambassadors respond to student questions about study abroad.
Chicago, IL (PRWEB) February 21, 2012
In 2012, IES Abroad, a leading not-for-profit international education consortium, inaugurated the Ambassador of the Year award to recognize the work of alumni who volunteer to spread the word about study abroad.
Recipients of the inaugural awards are Stephen Briles, a senior at Indiana University in Bloomington, and Carolina Sánchez-Hervás, a senior at Rhodes College in Memphis. Briles attended the IES Abroad Study London program in fall 2010 and Sánchez-Hervás attended the IES Abroad Rome program in fall 2010.
While studying in Rome, Carolina made a lasting impression on the IES Abroad Center staff and the organization with which she interned, Slow Food Rome, an international non-profit organization that advocates for fair food and farming policy. Over the course of her internship, Carolina visited restaurants that demonstrated Slow Food ideals, met with chefs, and collected data. She was then named the U.S. Ambassador to Slow Food Rome and has organized Slow Food events in Memphis that involved locally sourced food. Since returning, Carolina has touted the benefits of international study at Rhodes Study Abroad Fairs, as a Rhodes International Peer Advisor, and through phone campaigns as an IES Abroad Ambassador. She regularly responds to e-mails from students who contact her through the IES Abroad website.
Stephen also demonstrated a high interest in the culture of his London program. He supplemented his coursework in London with an internship at the Royal Academy of Arts, an independent art institution in Piccadilly, London, founded in 1768. As an intern, Stephen immersed himself in the culture of the British workforce, assisting the press department in promoting upcoming exhibits. Upon returning to the U.S., Stephen became an IES Abroad Ambassador. He took the initiative to present four information sessions about the advantages of studying abroad to his pre-law fraternity, College Democrats Club, and other classmates at Indiana University. He has also attended Indiana University Study Abroad Fairs, moderated Facebook pages for admitted London students, and answered e-mails from prospective students.
To become an Ambassador, students must be nominated by their international center's staff and must have demonstrated enthusiasm for their studies, both through academic excellence and a demonstrated interest in local culture. Currently, there are more than 700 IES Abroad alumni serving as ambassadors.
The alumni volunteers of the IES Abroad Ambassador Program respond to student questions about study abroad in general and IES Abroad programs in particular via phone, e-mail, and Facebook. Ambassadors also attend study abroad events on their campuses.
Nominees for the Ambassador of the Year award must serve as an Ambassador for at least one year and submit an essay. IES Abroad received 21 nominations from Ambassadors at 17 colleges and universities in the U.S.
The two Ambassadors of the Year will receive framed award certificates as well as an invitation to the IES Abroad Annual Conference in Chicago this October, among other recognitions.
IES Abroad, which celebrates its 62nd anniversary in 2012, is a global, not-for-profit academic consortium of more than 200 top-tier American colleges and universities. IES Abroad offers 100 programs at 35 international locations in Africa, Asia, Australia, Europe, New Zealand and South America. More than 5,500 students enroll in IES Abroad programs each year. For more information, please visit http://www.IESAbroad.org
IES Abroad has received the prestigious Quality Improvement Program (QUIP) designation from The Forum on Education Abroad for meeting the highest standards for study abroad programming and evaluation in the nation.
# # #