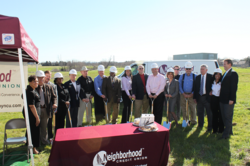 We are a not-for-profit credit union that wants to help people from all walks of life improve their financial life.
Grand Prairie, Texas (PRWEB) February 22, 2012
Great things are happening in Grand Prairie, according to Neighborhood Credit Union, which broke ground this morning on its new location in Grand Prairie.
"We are excited to be in Grand Prairie today to mark the official launch of a new branch that will be ready to serve the people of this community in the next few months," said Gerald Townsend, Chairman of the Board for Neighborhood Credit Union.
The new branch, at the intersection of West Bardin Road and Great Southwest Parkway, is due to open October 1, 2012. The Neighborhood Credit Union not only will provide a better way of banking to the Grand Prairie community, but also will focus on engaging students at nearby schools to establish a firm financial foundation for their future.
"Our mission is to build financial relationships in your neighborhood," said Townsend. "We are not another big bank simply pushing products and services. We are a not-for-profit credit union that wants to help people from all walks of life improve their own financial life."
Chet Kimmell, president and CEO of Neighborhood Credit Union, said the credit union hopes to be a draw to other businesses looking at or locating in Grand Prairie.
"This groundbreaking is symbolic of what we hope will be a trend: the decision by companies and organizations to invest in Grand Prairie and be part of this neighborhood," said Kimmell. "We believe Grand Prairie is going places, given its forward-thinking leadership and the community's focus on growth and economic development."
Neighborhood Credit Union board members and staff were joined by State Rep. Rodney Anderson; Grand Prairie City Council members Bill Thorn and Richard Fregoe; City Manager Tom Hart; Gail Cannon, District Director for State Rep. Barbara Nash; Grand Prairie Chamber of Commerce officials Bill Moser and Greg Cashman, and other business leaders.
About Neighborhood Credit Union
Neighborhood Credit Union, the oldest credit union in Dallas (chartered April 18, 1930), is a not-for-profit financial organization serving Dallas and Ellis counties, as well as the city of Arlington. With branches in South Dallas, North Dallas, Richardson, Arlington, Mesquite, Duncanville, Waxahachie and Lancaster (and soon to be in Grand Prairie) and assets topping $300 million, Neighborhood Credit Union has a membership of 30,000 and continues to welcome new members daily. For more information on Neighborhood Credit Union, call (214) 748-9393 or visit http://www.myncu.com.
# # #