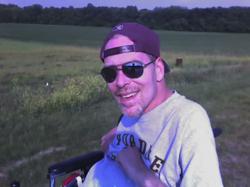 Offense doesn't win this ballgame, defense does!
Fort Wayne, IN (PRWEB) February 25, 2012
Mike Reed of TradeStalker.com is celebrating 30 years of Futures Trading. With his unique approach, Reed has not only survived the markets, he has excelled.
A diving accident in the summer of 1979 left Mike Reed a quadriplegic. With his hopes of a professional baseball career dashed, Reed began studying the Stock Market in 1982. He learned to read a ticker tape, and using a pencil between his teeth, he began charting on paper at 15 minute intervals. Thus began his obsession with the Market. He developed a batch of his own indicators and patterns that give low risk / high profit potential opportunities, and in 1996 he developed the "Reed Buying Index" (RBI), a proprietary indicator based on the Market's internals. He discovered he had a real "feel" for the Market; his percentage of accuracy was uncanny. This month Reed is celebrating 30 years of trading.
Over the course of the last 30 years, Reed has developed his own personal low risk/high reward trade set ups that he uses to trade each day. When asked what he credits his market longevity to, Reed says, "Offense doesn't win this ballgame, defense does! I firmly believe that defense is not only the best offense in this business; it is the only offense that works. This means that your entries can be just about perfect, but you will lose money in the long run if your exits aren't just as good as, or better, than your entries."
Since 1996, Reed has been helping other traders. At his website, TradeStalker.com, Reed offers free trading articles and videos. He also provides a subscription service, an e-book, a trading course, as well as a boot camp for traders.
Of Reed's service, long time subscriber sent him this email…
"Mike, I realize I don't know you in person, however I have a distant observation that I would like to share with you...
Just because you're not playing a sport anymore, doesn't mean you're still not an athlete! To me it seems as if you have attacked whatever has been ailing you like you would have a 2-0 fastball at another point in your life!!
To me, trading is the closest thing one can be to a professional athlete without playing an actual sport. I come from the trading floors in Chicago so I believe the athletic side comes into it as well, but I digress... In trading one must train themselves as to how they will react to many different scenarios, (i.e. game planning) to the point where reactions become "muscle memory".
Thanks for all you do for us."
Nick D. ~ Chicago, IL
In celebration of Reed's 30th year in trading, he is offering his Trading Course "Read the Greed - LIVE!" at 30% off for the month of February. When asked about his course, Reed says, "This course is my opportunity to show you exactly how, when, and where I enter and exit trades using the set ups that I have developed over the past 30 years trading. I will teach you how to get out of bad trades and also where to set logical profit targets. My course shows traders how to gain an almost unfair advantage over other traders. These strategies I've developed will allow you to compete with the professional "big" trader's who are dominating the market."
Of Reed's course, Alan from North Carolina says…
"Traders talk about the importance of finding a methodology that suits you. Even though I had a reasonably good methodology, I always felt that there was something missing. That is, until I began watching Mike's "Read the Greed-LIVE!" ...and then I knew I'd found the missing pieces. Mike presents good, solid ideas of how to make money in the markets and I'm extremely grateful that he's prepared to share them. A thousand thanks." ~ Alan B.
Futures Traders interested in learning unique and powerful trading strategies from a 30 year veteran trader, you can visit Mike Reed's website at http://www.TradeStalker.com
TradeStalker.com is a member of the Better Business Bureau of Fort Wayne, IN, as well as the Online Better Business Bureau.
###