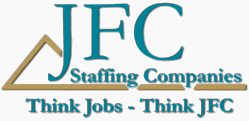 This type recognition is the most prized and valued of all; our customers have spoken and they confirmed that our incredible JFC work family delivers on their promise of Customer Commitment.
Camp Hill, PA (PRWEB) February 24, 2012
JFC Staffing Companies announced that it has been named to Inavero's 2012 Best of Staffing™ Client list. Best of Staffing, presented in partnership with CareerBuilder, is the nation's only award that recognizes staffing firms that receive remarkable reviews from their clients. Fewer than 1% of North American staffing firms have been named to the 2012 Best of Staffing Client List.
Staffing firms competing to make the Best of Staffing list underwent a rigorous client survey process followed by careful analysis of responses to determine satisfaction levels. JFC Staffing Companies received satisfaction ratings of 9 or 10 out of 10 from 75% of their clients, significantly higher than the industry's average. Best of Staffing participants secured a place on the list by earning an average Net Promoter Score that was nearly double the national staffing industry benchmark for client satisfaction.
"The staffing industry continues to play a key role in helping to revitalize the economy," said Eric Gregg, Inavero's Founder and CEO. "Staffing firms give growth-minded organizations and a more flexible alternative to recruiting their own employees, letting both the employee and employer determine if the fit is right for a more permanent position. Both sides receive tremendous value in a flexible, yet meaningful working relationship, and as they engage with staffing firms to help achieve those goals, the service experience they have is very important to their success. The Best of Staffing lists are a resource for businesses and talent who are trying to find staffing firms that provide exceptional service."
Inavero's complete Best of Staffing list can be viewed at http://www.bestofstaffing.com.
About JFC Staffing Companies
Founded in 1975, The JFC Staffing Companies, with offices throughout Central Pennsylvania, deliver credible recruitment services, solving genuine problems in new, useful and interesting ways for their clientele. The JFC Staffing Companies are comprised of full-service, temporary staffing and professional search firms that help individuals by catering to both workers seeking employment and employers seeking workers. JFC is well known for their specialized recruiting, customer relationships and responsiveness. JFC's experienced recruiters offer their expertise to match qualified job seekers with employers through innovative, cutting-edge service and value-added programs that led area business journals to name The JFC Staffing Companies the #1 independent staffing agency in the Central PA region.
JFC Temps offers a huge variety of office support jobs, including secretaries, receptionists, telemarketers, data entry operators, customer service representatives and administrative assistants. In the light industrial and skilled labor fields, JFC offers inventory control, production, assemblers, quality assurance, bindery, food service, line leads, supervisors and more. JFC Temps recently added skilled labor recruiting to their business and is now recruiting and placing CNC machinists, welders, electricians, maintenance technicians, HVAC techs and plumbers on a temporary, temporary to hire and permanent basis.
JFC Global focuses on information technology, accounting, finance and engineering and staffs positions on both a contract and permanent basis. JFC Global has received the WBE certification through the Department of General Services of PA.
JFC Medical fills many jobs in Central PA throughout the healthcare field including executive healthcare as well as physicians, RNs, LPNs, and medical support positions like medical assistants, medical billers, medical receptionists, and medical secretaries.
The JFC Staffing Companies have six convenient locations in Central Pennsylvania.
Camp Hill Office - 717-761-8095
Carlisle Office - 717-243-4475
Chambersburg Office - 717-709-9675
Harrisburg Office - 717-657-4923
Lancaster Office - 717-399-6474
York Office - 717-755-3100
###