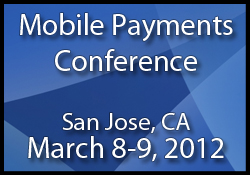 The mobile payments business is "starting over," says David W. Schropfer, a partner at Luciano Group.
San Jose, CA (PRWEB) February 24, 2012
The mobile payments business is "starting over," says David W. Schropfer, a partner at Luciano Group. That's hugely important for ecosystem participants, signifying a major shift in thinking and activity within the mobile payments business.
Schroper will present a major address on that topic to kick off the Mobile Payments Conference, to be held March 8 and 9, 2012, in San Jose, Calif.
Ironically, to a large, though not complete extent, "payments" now are taking a back seat to "wallets," which probably means we are headed for a period where "mobile commerce" becomes the headline phrase, not necessarily "mobile payments."
That has clear implications for many firms that are staking out positions in the mobile payments business, and raises new questions about "what to do," and "who to partner with" in the new business that is taking shape.
On the other hand, some contestants continue to believe there is a huge opportunity to disrupt the core "payments" function. Both new start-ups and large mobile service provider firms, such as Telus, believe that is the case, and will be speaking about where they see opportunities, and what the approaches must be, to provide enough value to shift behavior in a big way.
Major addresses also will speak to the perspective of the retailers whose support is essential for success, with particular emphasis on how retailers think about the payments function, and what that means for other contestants looking to win retailer support.
Value for end users also remains an issue. Speakers will address some of the applications seen to provide clear value for end users, with an emphasis on why the new payment apps provide that value.
Loyalty programs and systems generally refer to programs intended to bring a consumer into a specific merchants with incentives such as coupons, discounts, and other incentives. Many of the speakers will talk about loyalty and merchandising features of mobile wallet systems.
Learn more and register at the Mobile Payments Conference site. http://www.mobilepaymentsshow.com
Sponsored by Mobile Marketing & Technology, an online news outlet for mobile marketing and mobile payments industry.
###