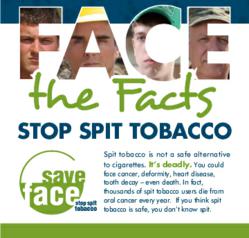 Selma, Alabama (PRWEB) February 28, 2012
Dipstop Inc., developer and manufacturer of BaccOff brand of tobacco free snuff announced the release of a new resource to help those battling nicotine addiction win their fight against smokeless tobacco. The CDC (US Center for Disease Control & Prevention) estimates that almost 4% of all adults in the US are smokeless tobacco users. More than 6% of high school students and almost 3% of middle school students are also on the path to addiction.
The free resources help smokeless tobacco users address the physical and psychological issues associated with nicotine addiction in straightforward and easy to understand language. The Top Six Quit Dipping Tips helps snuff users understand the behaviors that contribute to addiction and how to break the cycle that keeps them addicted.
DipStop™ Inc. was founded in 1991 to combat the critical health problems associated with smokeless tobacco by helping users break the nicotine habit. Family owned and operated in Selma Alabama, DipStop is one of several business units dedicated to the development and introduction of innovative products created to improve the health and well-being of its global customer base. Initially offered in wintergreen, cinnamon and mint flavors, BaccOff™ straight tobacco free snuff was introduced in 1993 as the first chewing tobacco alternative with the taste, texture, and *spitability of real tobacco snuff.
*spitability - The wherewithal to expel a reasonable amount of brownish liquid from between the lips with sufficient force to roll small bugs, stir up dust, and send dogs and cats running for cover
###